Options
Mark as New

Bookmark

Subscribe

Email to a Friend
Over the past few weeks, Bixby's future as part of Samsung's mobile app portfolio hardly underwent any radical changes, yet it also seems slightly less on a nearly daily basis. Because Samsung itself appears to be running out of ideas about what to do with its AI assistant, to the point it already shuttered some of its original functionalities, while also supporting them in other markets, or doing highly specific, almost random refreshes of some UI elements.
This latest development isn't doing anything to help stabilize Bixby's shaky position in Samsung's Android plans, either. But with that said, the Voice Assistant service, that genuinely quality part of an otherwise polarizing package, is now getting a makeover that's kind of minor, yet could also imply a more widespread UI refresh, as first spotted by one Reddit user. There's a flashy new icon here as part of a revised bottom navigation bar, as well, but just based on the actual part of Bixby being updated, it's probably safe to assume that of all its services, the Voice Assistant one would probably be the last one to get canned even if Samsung pulled the plug on everything this very second.
To Bixby or not to Bixby?
Ultimately, Bixby's number one issue hasn't changed much over the years – it's still a poorly balanced experience that can simultaneously achieve almost unrivaled feats of Android voice navigation and follow some quite remarkably complex verbal commands while failing at being even the most rudimentary of AI assistants. You would think that some extra push toward third-party support, whether via even more capsules, a genuinely useful, applet-like ability, or more direct integrations, might be beneficial to such an interoperability-dependent solution. But Samsung recently also disbanded its Bixby dev outreach unit, which never grew beyond a handful of employees and contractors, anyway.
So, especially with Bixby's AI shortcomings in mind, Google's growing desire to get its own, industry-leading Assistant more tightly integrated into the world's best-selling Android phones – those from Samsung – might be cause for alarm. Granted, it probably isn't, not beyond the likelihood Google just pays for some extra visibility, and even that's questionable. But Google Assistant has already been expanding across most of what remains of Samsung's device ecosystem beyond smartphones, so we really wouldn't bet on Bixby maintaining any popularity over the next few years, outside of still being a super convenient but not that widely used voice control solution.
This latest minor design touchup, though? Not exactly consequential, let alone explained on Samsung's part, though the company will likely issue a short changelog stating this is actually a One UI 3.0 think, just distributed on an app- or service- level because who knows? It seems like everyone working on Bixby is just kind of chilling and doing its own thing.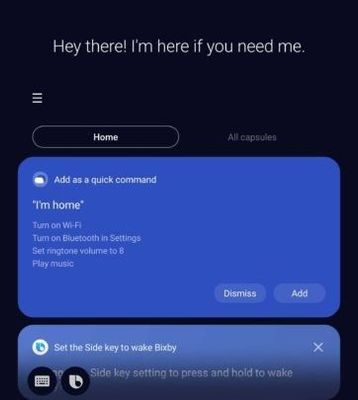 Old Interface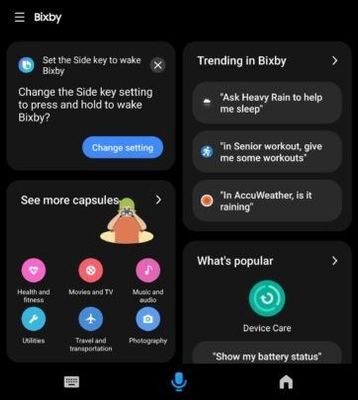 New Interface