They say battery's life depends on how long it lasts during an activity. But honestly, good battery is being defined by its long lasting stability during idle. Why? Because the longer it says on without activity, the more you save power and the more it becomes useful specially during black outs. I gave a52 4g an allias named "the flagship" because its battery's performance is incomparable. This phone has the best battery software or whatever that is like no other compared to s21 ultra or even s22. I used them all and a52 4g is the most reliable phone when it comes to being idle. Those flagships kinda drain battery so fast even during idle versus a52 4g that lasts for a week with numerous apps installed. I really cant believe it. Kudos to the parts and pieces of a52 4g. Hoping to see a flagship phone in the future that could be at par with a52 4g
Honestly, i dont understand how samsung really promotes battery life, or even pay attention to it. If you compare them to other units like oppo, vivo, realme, xiaomi, they have an extreme source of power that could hold long hours of usage.
The beauty of a52 4g :) this is the kind of performance. Screen on time is 16 mins, doing facebook while downloading plus wifi on will last 16 mins still at 100% battery level. How long do you think it will take before it drops 1%? Amazing isnt it. This phone has numerous battery draining apps installed and yet it is so great, performance wise.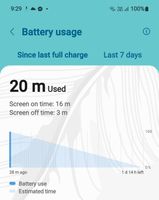 Thank you Shirley1969, we value your comments and feedback.
As we are all aware that Samsung, a leading technology company, recognizes the importance of security and privacy, dealing with the above-mentioned challenges.