Help please. After I choose my ar emoji, there's no opt
ion or video below to save for call background.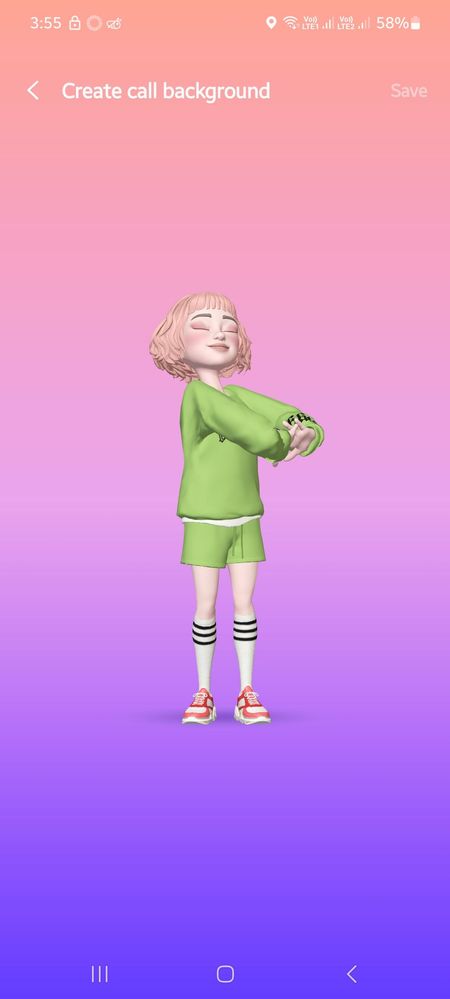 Hello awiyan,
Thanks for contacting us here in order to find out on how to add AR emoji on the call background. We understand what you are feeling, uncertain of what's next to do. But do not worry, we are ready to assist, provide you with the right solutions.
Before you try out the recommendations below, be sure to check if
your device's software and related apps are updated to the latest version
. To update your mobile device's software, follow these steps:
Step 1.
Go to
Settings
> Software update.
Step 2.
Tap on Download and install.
Step 3.
Follow the on-screen instructions.
Step 4.
Restart your device.
Clear Cache and Data of App
Step 1. Go to Settings.
Step 2. Navigate to Applications and Select AR Emoji app.
Step 3. Clear Cache and its Data.
Step 4. Restart your device.
For more help and assistance, you may contact us on our online Samsung Customer Care support channels below.
https://samsung-livechat.sprinklr.com/seao/ph/index.html
Or our Samsung Customer Care direct hotline numbers below.
#GALAXY or #425299 [Mobile Phones & Tablets]
Available 24/7
1-800-10-7267864 [All Product, Toll Free, PLDT]
1-800-8-7267864 [All Product, Toll Free, Globe]
842 221 11 [All Product, Landline]
Daily (8:00am to 8:00pm)
Let us know if you've found a solution by tapping "Accept as Solution" on the answer you like!
Stay safe and have a nice day ahead! Thanks for contacting Samsung.
problem solved! thank you!