What is the meaning of this? I don't even use a second sim card? Should I be bothered by it or not?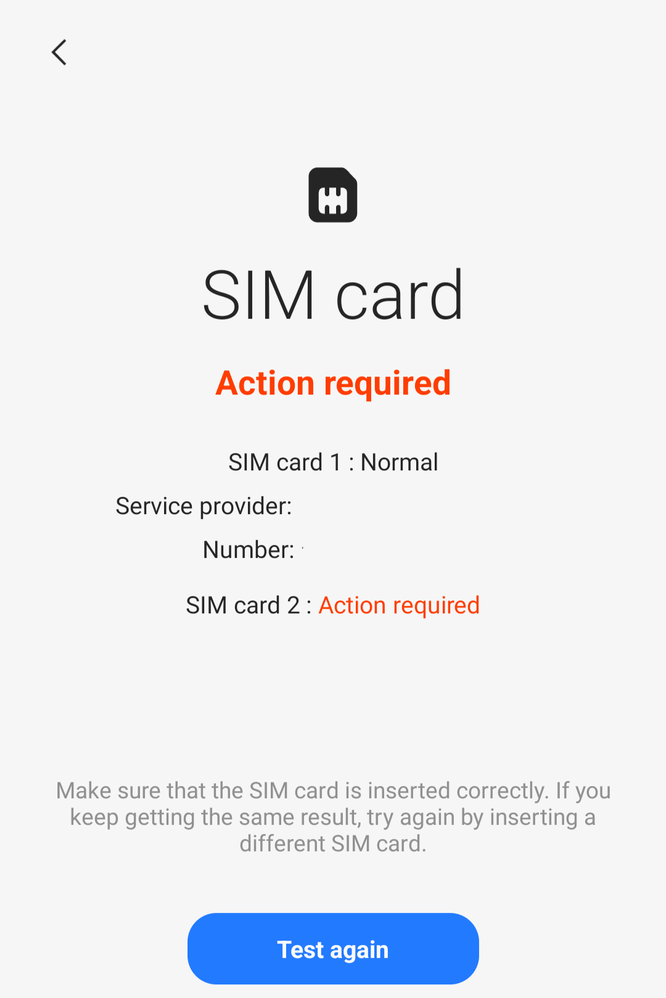 i think they test 2 slots at once, and since you didn't put one, it will automatically turn like that. sometimes when i leave or skip a diagnostic, that also happens on my tablet and phone.
Hello t12_,
Thanks for reaching out to us here in order to find out about whether you will be bothered by the "Action Required" as a result of the Self-Diagnostic on your beloved Samsung Galaxy A53.
Before you try out the below recommendations as to your solution, be sure to check if your device's software are updated with the latest version. Please check how to update your mobile device's software in the following order.
Step 1. Go to Settings > Software update.
Step 2. Tap on Download and install.
Step 3. Follow the on-screen instructions.
Open and re-insert SIM Card.
You may test again, if it's still the same, then you may need to check the SIM card tray for any debris and moisture. Please wipe it dry with a clean cloth then close it gently.
If that doesn't fix the problem, you may submit an error report through the Samsung Members app as follows:
Step 1. Long press Samsung Members icon on Apps screen and tap Error reports.
Step 2. Tap OK on agreement popup to send system log data.
Step 3. Select Symptom category "Others".
Step 4. Describe the problem in details and SEND.
How to submit an error report on Samsung Members app? | Samsung PH
If the issue persists, you may bring your device to the nearest Samsung Authorized Service Center in your area. Rest assured that your device will undergo an assessment to pinpoint the root cause of the issue. Our Samsung engineers and technicians will guide you and offer solutions to restore it.
https://www.samsung.com/ph/support/service-center/
or book an appointment with the Samsung Members app as follows:
Support > Book an appointment to set one.
Should you need further assistance and guidance, you may contact us via our online Samsung Customer Care support channels below.
https://samsung-livechat.sprinklr.com/seao/ph/index.html
Or our Samsung Customer Care direct hotline numbers below.
#GALAXY or #425299 [Mobile Phones & Tablets]
Available 24/7
1-800-10-7267864 [All Product, Toll Free, PLDT]
1-800-8-7267864 [All Product, Toll Free, Globe]
842 221 11 [All Product, Landline]
Daily (8:00am to 8:00pm)
Be sure to click "ACCEPT AS SOLUTION" when you find our answers helpful to you.
Stay safe and have a nice day ahead! Thanks for contacting Samsung.