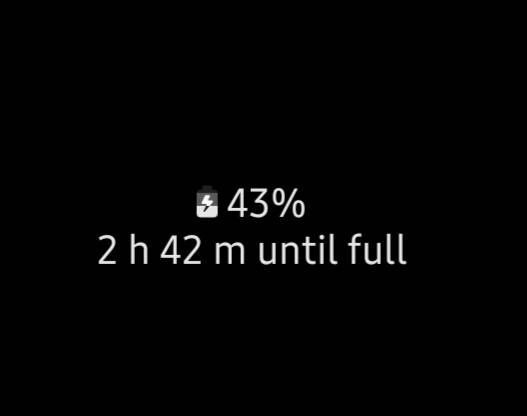 I always use fast charging mode but I decided to stop it since my phone gets super hot. I switched to the normal mode, but charging takes 4-5+ hours for 20% to 85% while the fast mode takes 1hr 7 mins for the same charger. What I don't get is that I'm sure it shouldn't take 5 hours for normal charging mode. Why is this so? I use my 4 month old charging brick and cord from my A52 box.
Hello uhauljoe,
Thanks for reaching out to us here in order to find out why it takes longer to charge your Samsung Galaxy A52 while charging it in normal charging mode. I really understand that you are a bit worried, and if it happens to me, I will feel the same.
Before you try out the recommendations below, be sure to check if
your device's software and related apps are updated to the latest version
. To update your mobile device's software, follow these steps:
Step 1.
Go to
Settings
> Software update.
Step 2.
Tap on Download and install.
Step 3.
Follow the on-screen instructions.
Step 4.
Restart your device.
Your device has a built-in Li-Po 4500 mAh, 25W wired battery that will take 1 hour for your device to fully recharge while in fast charge mode. It's worth nothing that you've decided to stop using the fast charging mode due to a rise in temperature while charging, which is completely normal and will not affect the device's lifespan or performance. But if the temperature reaches beyond or below a certain level, the device's safeguard may shut off charging for its protection.
Not only that, if you use your phone while charging, the device may overheat if you start charging without closing certain apps. You can check if the USB cable or the device's port is damaged, which may cause overheating. If it happens, then we recommend replacing it with a new, authentic cable or visiting the nearest Samsung Authorized Service Center in your location.
https://www.samsung.com/ph/support/service-center/
To learn more about battery charging tips, click on the links below.
https://www.samsung.com/us/support/galaxy-battery/charging-tip/
Wall chargers and charging your Galaxy phone or tablet (samsung.com)
https://www.samsung.com/us/support/answer/ANS00078994/
For more assistance and guidance, you may contact us via our online Samsung Customer Care support channels below.
https://samsung-livechat.sprinklr.com/seao/ph/index.html
Or our Samsung Customer Care direct hotline numbers below.
#GALAXY or #425299 [Mobile Phones & Tablets]
Available 24/7
1-800-10-7267864 [All Product, Toll Free, PLDT]
1-800-8-7267864 [All Product, Toll Free, Globe]
842 221 11 [All Product, Landline]
Daily (8:00am to 8:00pm)
Stay safe and have a nice day ahead! Thanks for contacting Samsung.
sa cord mo yan sir. A52 user here. umaabot beyond 1hr pag below 40% ang bat, pro d gnyan katagal like almost 3hrs.

i dont also use fast charging since.
Hi! I also happen to use A52, and this happens to me a lot. Try replugging the device with the cord and flipping it to get lower time for charging. This problem is on the charger, not the device.