Options
Mark as New

Bookmark

Subscribe

Email to a Friend
The next Samsung Galaxy Unpacked event will take place next week — and that means new Samsung products are on the way.
But what could those new products be? We already have a few clues. Unpacked events typically feature new Samsung phones, and there's no reason to suppose this one will be any different. Plus, Samsung's calling this one "Galaxy Awesome Unpacked" — and it's likely that the "Awesome" bit refers to new models in the Galaxy A line of phones.
But that may not be everything that's announced at the Samsung Galaxy Unpacked event.
While Samsung isn't giving anything away — its invite image and teaser video don't even include generic silhouettes of products — rumors suggest we could also see the latest Samsung smartwatch or even new foldable phones. Here's what to expect.
Samsung Galaxy Unpacked event date
The Samsung Galaxy Unpacked event will take place on Wednesday, March 17, starting at 10 a.m. EDT/7 a.m. PDT.
It's the second Unpacked gathering this year, with January's event having seen the launch of the Samsung Galaxy S21, Galaxy S21 Plus, Galaxy S21 Ultra and Samsung Galaxy Buds Pro.
As for this March 17 Unpacked event, you'll be able to watch the whole thing on Samsung's YouTube channel and on the Samsung Newsroom website.
We're pretty certain that the Samsung Galaxy Awesome Unpacked event will reveal the new Galaxy A72 and Galaxy A52 phones.
Last year's launch video for the Samsung Galaxy A51 was essentially a 45-second loop of the word "awesome" over pounding techno, so it's safe to say that if Samsung uses the term again, it's for a reason.
Both phones have also been heavily leaked in recent weeks, further adding to the likelihood that they're about to launch. And from what we've seen of them so far, they look well placed to join or replace the A51 in our list of the best cheap phones.
Let's take the A72 first. This is expected to be the larger of the two, with a 6.7-inch screen, and will come in LTE and 5G versions.
A recent leak of the Galaxy A72's specs hinted that it'll get a serious camera upgrade over last year's Galaxy A71 5G, which we felt was merely an average performer compared to the rival Google Pixel 4a.
According to the leak, the Galaxy A72 will have a quad-camera array featuring a 64MP main camera, 12MP ultrawide and 5MP macro, plus an 8MP telephoto lens capable of a 3x lossless zoom — a feature that was entirely lacking on the A71. It's also expected to have a 32MP selfie camera in Samsung's trademark central punch-hole notch.
Elsewhere, the display is said to be an FHD AMOLED model with a 90Hz refresh rate, while stereo speakers with Dolby Atmos, a headphone jack and IP67 water/dust resistance are all included.
Power will reportedly come from a Snapdragon 720G chipset backed up by either 6GB or 8GB of RAM, but a separate leak about the A52 (below) suggested that phone would have a 750G chip in the 5G version. If true, the same could be the case here.
Either way, the Galaxy A72 is also said to have a 5,000 mAh battery with 25W fast charging, plus 128GB or 256GB of storage.
Based on the price of the A71, we expect its successor to cost around $600 — and it should be pretty competitive if the above specs are accurate.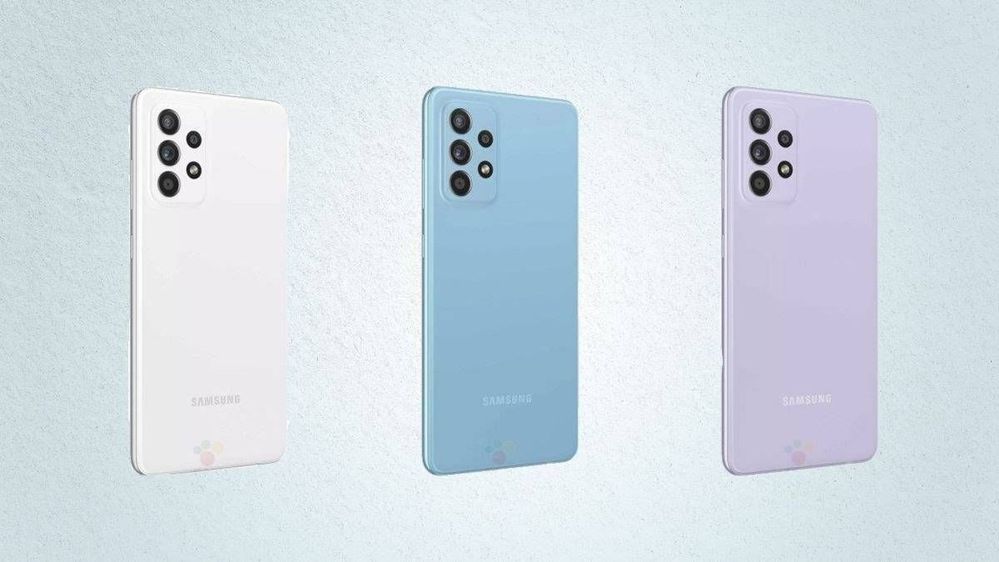 The Galaxy A52 is almost certain to launch alongside the A72 at Samsung Galaxy Awesome Unpacked. And again, a recent leak has revealed quite a lot about it.
Like the A72, the Galaxy A52 is expected to come in either LTE or 5G versions, but this time with a slightly smaller 6.5-inch FHD AMOLED display. The leak doesn't detail whether it will have a fast refresh rate, but that could be one area where Samsung cuts costs, given the predicted €349 price of the base model. (That converts to around $415, though phone makers often adjust prices on a regional basis.)
Also as with the A72, the Galaxy A52 is rumored to have a quartet of rear cameras — a 64MP main sensor and 8MP ultrawide, plus two others at 5MP and 2MP respectively. It's not known what these are, but it's assumed one will be for macro photos and the other for depth effects. There's also a 32MP selfie camera on the front, again in a punch-hole notch.
As we said above when talking about the A72, this leak also suggested the base model will have a Snapdragon 720G chipset while the 5G version will have a slightly more powerful 750G. Both are said to have 6GB of RAM, an upgrade from the 4GB in the A51.
The Galaxy A52 battery looks to be smaller than that in the A72 — 4,500 mAh rather than 5,000 mAh — but given the smaller screen, it may last for a similar amount of time. Again, the Galaxy A52 will likely have 25W fast charging, plus a headphone socket, microSD slot and IP67 water resistance.
Based on that low price, the A52 could be the more interesting of the two A-series phones. The specs don't look hugely different from the more expensive model, but it could be as much as $200 cheaper. The A51 is currently sitting pretty in our best cheap phones list, and we wouldn't be surprised if the A52 makes the cut too.
Options
Mark as New

Subscribe

Email to a Friend
Options
Mark as New

Subscribe

Email to a Friend
Credits to the rightful owner.