Options
Mark as New

Bookmark

Subscribe

Email to a Friend
I have a Galaxy A51 and for the past couple of years it has been working fine. But recently, at around 7 pm it automatically mutes itself and switches to dark mode without me knowing about it. So if I don't check it constantly, I won't even know that it is on mute...I talked to a tech support online yesterday and he connected remotely to my phone and said he fixed it. But again today the phone did the same thing. I tried to contact the tech support again, but they didn't take my call due to high volume. I don't know what to do. Can anyone help me please. Thank you.
2 Solutions
Options
Mark as New

Subscribe

Email to a Friend
Check if you have Bixby Routine turn on. Also, check Dark mode if you have turn on as schedule.
The next possibility is...do you have routine scheduled on Google home, if you have Google home or use Google assistant.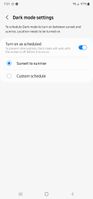 Options
Mark as New

Subscribe

Email to a Friend
Please follow what Tallman said, it would be great to tell us if any of these are on. Otherwise, I'll help you if the issue is somewhere else. Alright?