Options
Mark as New

Bookmark

Subscribe

Email to a Friend
Hi, I'm quite confused at the moment. Is it harmful to turn off my phone
every night
? or instead of every night, I should turn it off occasionally? (w a particular range of days)
4 Solutions
Options
Mark as New

Subscribe

Email to a Friend
It is not harmful at anyway. But may I ask why do you want to turn it off? To save battery? I usually just turn it off or restart it if I'm gonna take my sim card or my SD card. A restart once in a while is also recommended. At night, I set a Bixby routine to save some battery power.
Options
Mark as New

Subscribe

Email to a Friend
Safety for yourself possibly due to radiation.

But for your battery life it would be nice to turn it on and off once in a while. The important thing in battery life is you avoid dropping the battery to 0% - 1%. The recommended battery life is 50% - 100% as it help sustain the battery life a lot longer.
Options
Mark as New

Subscribe

Email to a Friend
Hi. Actually its not bad. But you can also use auto restart to sustain your battey and turn on the power saving mode to save battery in optimized or maximum power saving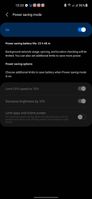 Hey there! Welcome to Samsung Members Community! Explore your new hub for all things Samsung and beyond. Earn the coolest badges and enjoy awesome perks from us by connect with Samsung experts, super-fans, and other Community members for tips on features and how to get the most out of your Samsung product. Should you need technical assistance, don't hesitate to reach us via our TOLL-FREE mobile number #GALAXY (#425299) or via our TOLL-FREE LANDLINE: PLDT Toll free : 1-800-10-726-7864 Globe Toll Free : 1-800-8-726-7864 Standard Landline : (02)8-422-2111 Daily (8:00 AM to 8:00 PM)
I agree with your fellow members here. You may do turn off your device once in a while, this is to refresh your device's system, give your device a rest, somehow prolong your battery's lifespan, save you from too much radiation. Nonetheless, do plan strategically as to when is the best time of day to do this, so as not to disrupt you from any of your work, urgent calls that may come in.
Be sure to click " ✓ Accept as Solution" when you find an answer that works for you.
Thanks for your support to Samsung. Stay safe. Have an awesome week ahead. 😊