Samsung's BESPOKE Jet Bot AI+ comes equipped with innovative 3D active stereo-type sensors and AI technology to offer accurate and efficient cleaning.
Samsung Electronics has today announced the availability of its new robot vacuum cleaner, BESPOKE Jet Bot AI+, via the Samsung Australia online store. First unveiled at CES 2021, the new robot vacuum demonstrates Samsung's leadership in offering consumers innovative, intelligent, and well-designed solutions optimised to personalise home cleaning routines.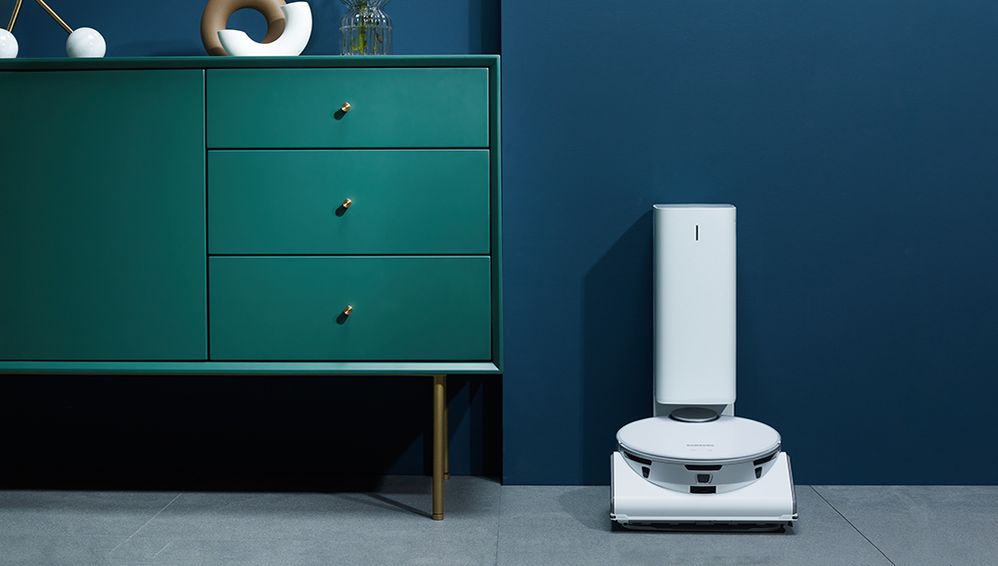 "BESPOKE Jet Bot AI+ reflects Samsung's ongoing dedication to creating connected appliances that deliver dynamic performance and can adapt to the varying needs of our consumers," said Jeremy Senior, Vice President – Consumer Electronics, Samsung Australia. "Australians can now clean their homes intelligently and efficiently using the AI-powered Jet Bot, while being an aesthetically well-designed appliance that Australians can be proud to have in their homes."
World-Class Object Recognition and AI-Powered Driving
BESPOKE Jet Bot AI+ comes with an active stereo-type 3D sensor, which accurately scans a wide area[1] to avoid small, hard-to-detect objects on the floor. Its 3D depth camera – equivalent to 256,000 distance sensors – can precisely detect obstacles as small[2] as 1cm. This innovative object detection helps prevent the unit from getting stuck on small obstacles in its cleaning path.
BESPOKE Jet Bot AI+ is also equipped with an Intel AI solution, which powers its Jet AI Object Recognition technology. The smart solution allows the robot to navigate with accuracy by recognising not only the objects on the floor, but also appliances and furniture[3]. The robot's smart decision-making helps to ensure users can have their unit clean closely around items such as children's toys while maintaining a safe distance from delicate objects like porcelain vases[4]. It can also classify items such as pet waste, glass cups, and electrical cables as dangerous or likely to cause secondary contamination in order to avoid them.
BESPOKE Jet Bot AI+ is even equipped with a LiDAR Sensor that calculates its location precisely to optimise its cleaning path by repeatedly scanning the room[5] to gather distance information. This technology works well in dark areas such as low-lit rooms or below furniture so the unit can cover a larger area.
Powerful Clean From Start to Finish
Users can clean their homes thoroughly with advanced technologies that enable powerful cleaning. Jet Bot AI+'s Digital Inverter Motor maximises the suction power for a deep clean. Furthermore, with its Intelligent Power Control function, the new robot vacuum can even identify the type and amount of dust on the surface to automatically adjust its suction power.
BESPOKE Jet Bot AI+ also comes with a host of hygiene-related functionalities that enable effortless floor cleaning while ensuring that dust is securely trapped and not likely to be released back into the air. Its Advanced 5 Layered Filtration system traps up to 99.99%[6] of micro dust, including 0.5~4.2µm sized particles that can easily escape. All parts and filters are washable to maintain hygiene.
BESPOKE Jet Bot AI+ features an Integrated Clean Station™ which collects dirt and hair in a 2.5L dust bag that only needs to be replaced approximately once in every one to three months[7]. After cleaning, the robot vacuum automatically returns to the Clean StationTM and empties itself[8] using Air Pulse technology complemented by a multi-layered filtration system that traps 99.999% of fine dust[9], ensuring the dust isn't released back into the air.
Personalised, Convenient Cleaning for Hassle-Free Usability
Users can control and monitor the BESPOKE Jet Bot AI+ remotely using the SmartThings app[10] on their compatible smartphones. The robot vacuum can be scheduled to clean selectively in either a single room or multiple rooms with the 'Select & Go' function. The app can also be used to custom-define virtual No-Go Zones to prevent the unit from entering certain areas without the need for physical barriers.
The smart robot also offers Bixby voice recognition capabilities[11], meaning users can use voice commands to schedule cleaning sessions, change modes or even ask for the latest information such as news or weather updates.
Furthermore, with Live Cleaning Report, users can easily track the movement of their BESPOKE Jet Bot AI+ on a virtual map of their homes in real time. Users can see where it has cleaned, and even pause it or instruct it to stop cleaning. Once it has completed cleaning, users can check its cleaning history to see which areas have been cleaned, how long it took, and which path it followed.
Moreover, users can monitor their home remotely with the BESPOKE Jet Bot AI+'s Patrol Mode, which uses the unit's front camera to livestream video images through the SmartThings app. The Patrol Mode allows users to monitor the status of rooms they want to check while away, and even lets them enjoy this feature through scheduling. The smart unit also supports end-to-end encryption, so video clips are secure and can only be viewed by an authorised user.
Intuitive Pet Care for the Modern Pet Parent
Pet owners can take advantage of the BESPOKE Jet Bot AI+'s features to check in and care for their pets while pet owners are out of the house via the SmartThings Pet service. SmartThings Pet Service[12] can stream a live feed from Jet Bot AI+'s front camera and can detect your pet's movement[13] so users can see that their pets are safe and happy. The BESPOKE Jet Bot AI+ can also play music and access other compatible smart devices[14] to keep pets comfortable or entertained. By integrating pet care into its smart home ecosystem, Samsung is reimagining how consumers live and interact with their pet companions.
BESPOKE: Designed To Be Seen.
BESPOKE Jet Bot AI+ joins Samsung's award-winning range[15] of BESPOKE Home appliances, which includes BESPOKE AirDresser, BESPOKE Jet™ Stick Vacuum, BESPOKE Refrigerator, and BESPOKE Cube™ Air Purifier. Samsung's BESPOKE Home range of connected appliances is centered on the concept of innovation, customisation, sustainability, and flexible functionality for every room.
The BESPOKE Jet Bot AI+ is now available to Australians in white via Samsung's online store for RRP $1,899.
For more information, visit the Samsung website: https://www.samsung.com/au/vacuum-cleaners/robot/vr9500t-bespoke-jet-bot-ai-white-vr50t95735w-sa/
[1] Up to 1m, Horizontal field of view: 60°, Vertical field of view: 40°.
[2] As small as about 1cm wide, 1cm tall and 1cm deep.
[3] Example Items: air conditioner (stand type), (BESPOKE) refrigerator, TV, washing machine/dryer, air purifier, BESPOKE AirDresser, sofa, bed, bookshelf, table, refrigerator, excrement, electrical cable, towel/sock, cup, glass cup, bottles, bowl, vase, etc.
[4] Results may vary. Object recognition may be affected by an object's shape or the environmental conditions.
[5] Scans 360° over an area of 6 meters at 10 rotations per second.
[6] Based on internal testing, using Max mode, in accordance with the IEC62885-2 Cl. 5.11 standard. Results may vary depending on the actual home conditions.
[7] May vary depending on the amount of dust in actual home environments.
[8] Results may vary depending on individual use. Dust and hair stuck inside the grille may not be removed with a single cycle.
[9] Based on internal testing, using Max mode, in accordance with the IEC62885-2 Cl. 5.11 standard. Results may vary depending on the actual home conditions.
[10] Available on Android and iOS devices. A Wi-Fi connection and a Samsung account are required.
[11] Only available on certain models (VR50T959). Bixby is Samsung's brand of artificial intelligence (AI) / Internet of Things (IoT) voice assistant. A Wi-Fi connection and a Samsung account is required. Different languages are supported in each country.
[12] Available on Android and iOS devices. A Wi-Fi connection and a Samsung account are required. Data fees may apply.
[13] The ability to recognise your pet may vary depending on the type of pet and living environment.
[14] Each appliance needs to be set to be optimised for pets by the SmartThings App.
[15] Awards include but are not limited to: Canstar Blue 2022 "Innovation Excellence" Award 2022 – BESPOKE Home range; Canstar Blue "Most Satisfied Customers" Award 2022 – BESPOKE Jet Stick Vacuum; Good Design Award Gold Accolades each given to BESPOKE Cube™ Air Purifier AX53, BESPOKE Refrigerator, and Samsung BESPOKE AirDresser in 2022.The Samsung Bespoke AirDresser and Air Purifier ranges have earned Sensitive Choice tick of approval from the National Asthma Council of Australia.