Samsung Electronics Launches Infinite: A New Column Refrigerator Combining Timeless Design with Ultimate Performance
The new Infinite Refrigerator combines a premium aesthetic, convenient features, and flexible storage options to seamlessly sync with your lifestyle.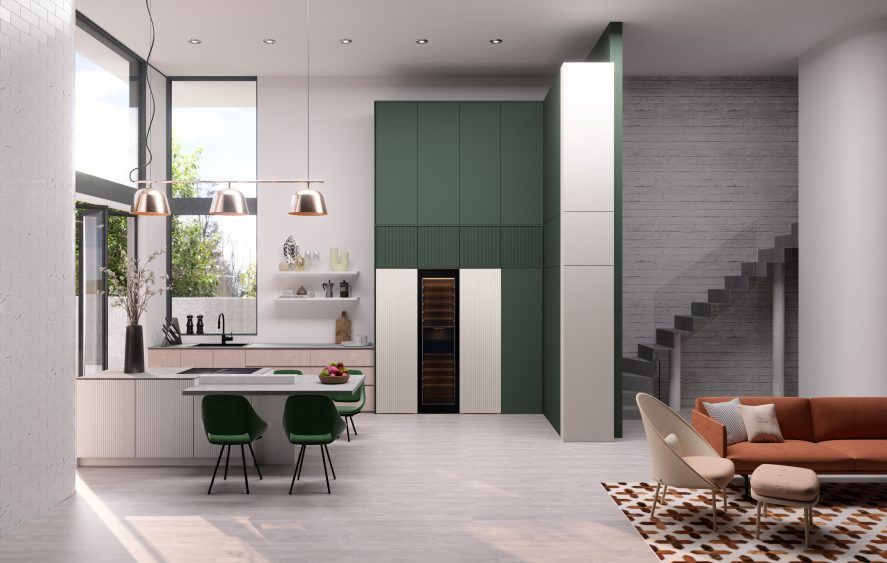 Samsung Electronics Co., Ltd. today announced the global launch of the Samsung Infinite Refrigerator[1] in select markets around the world. Having originally launched in Europe[2], the Infinite Refrigerator will expand to Australia by Q2 2023, and additional countries including, Mexico and Thailand by the end of the year.
Samsung's new premium built-in refrigerator is available with a choice of fridge, freezer, or wine cellar models, and features a timeless, modular design that seamlessly blends into any interior. With simple lines, high-quality natural materials, and features that maximise convenience and streamline food storage, the Infinite Refrigerator adds lasting value to consumers' kitchens.
"Combining high-quality materials with modular designs, the Samsung Infinite Refrigerator reimagines bespoke customisation in a premium fridge, creating the ultimate blend of style and performance," said Junhwa Lee, EVP and Head of the Customer Experience Team of the Digital Appliances Business at Samsung Electronics.
A Timeless Design That Elevates Any Kitchen
With a timeless aesthetic that reflects the latest trends, Infinite Refrigerator is built to last. Known as Infinite Design, the new aesthetic is distinguished by its seamless look, durable materials, premium finishing, and elegant design cues.
As a premium bespoke refrigerator, Infinite Refrigerator naturally features a modular design made from high-quality materials that can be customised and combined to suit consumers' changing needs. Infinite Design enhances that versatility by ensuring that the refrigerator will remain stylish no matter how consumers' lifestyles change. With its simple lines, smooth surface, Timeless Greige finish and elegant gold copper edge frame, the Infinite Refrigerator looks outstanding in any interior.
The refrigerator's exterior is made from premium aluminum which provides a level of dent- and scratch-resistance and allows marks and stains to be removed[3]. The interior is bright and refined with its Black Metal Cooling and Tunnel Lighting – two features that epitomise the refrigerator's elegant balance of form and function.
Applied to the duct and door, Black Metal Cooling not only creates a sense of depth for a distinctly premium look, but it also helps keep food fresher for longer by quickly compensating for heat loss. The Tunnel Lighting on the frame and shelves enhances the aesthetic while giving users clear views of every corner of their fridge. Not only is the interior striking, but it is also spacious. The fridge and freezer feature a combined capacity of 805 litres[4], while the wine cellar offers room to store up to 101 bottles.
Raising the Bar for Kitchen Convenience
To offer users an experience that is more in tune with how they use their fridge today, the Infinite Refrigerator comes packed with features that maximise convenience. Together, these technologies provide instant access to food and refreshments for a truly outstanding user experience.
The new Auto Open Door features a sensor on its side[5] that instantly opens the door with a simple touch[6]. This makes it easy for users to access their fridge even when their hands are full of groceries or messy from food prep. The door's built-in sensor means there is no handle to get in the way, while its stylishly simple look reflects modern consumers' demand for clutter-free designs.
The dishwasher-safe[7], BPA-free[8] AutoFill Jug[9] provides easy access to refreshingly cold filtered water, anytime. It also features a built-in infuser[10] that allows users to create deliciously flavoured beverages by adding any fruits and herbs they like. The Dual Auto Ice Maker[11], meanwhile, ensures that users have plenty of ice, offering a choice of either whiskey ball ice or cubed ice.
Flexible Cooling for Optimal Freshness
The Infinite Refrigerator's flexible storage options allow users to simultaneously store different foods under optimal conditions, keeping everything inside deliciously fresh.
The Flex Pantry[12] is an independently controlled drawer that can be quickly converted to different preset temperatures to suit users' daily needs. The two built-in temperature modes are ideal for storing a wide range of high-quality ingredients, from meat and fish to fruits and vegetables, preserving their natural flavours and textures.
The wine cellar's Triple Temperature Zone brings a similar level of optimised freshness to wine storage. With three separate climate zones and precise temperature controls, it allows users to simultaneously store different bottles of wine under optimal conditions, delivering the ultimate in wine preservation. The UV Protect Glass Door has triple-glazed glass with UV ray protection. It safeguards it from changes in the outside temperature, so the internal temperature remains stable, and shields it from harmful UV rays[13].
Seamless SmartThings Integration
The refrigerator's seamless connectivity makes using it a breeze by simplifying everything from wine storage to managing energy use.
Part of the SmartThings app[14], the new SmartThings Smart Wine Storage wine management feature takes the guesswork out of storing wine by analysing wine labels and offering details on optimal storage conditions. When combined with SmartThings Cooking, the service helps recommend the perfect food to pair with wine[15].
SmartThings Energy[16] support allows users to easily monitor and manage their refrigerator's electricity use and offers tips to help reduce their carbon footprint and save money. AI Energy Mode takes that efficiency to the next level by analysing usage patterns and other factors and optimising settings to help save energy.
For more information about the Infinite Refrigerator, please visit Samsung.com/au/.
[1] Product name may vary across regions to Bespoke Infinite Line Refrigerator.
[2] Launch markets include the UK, Germany, Italy, France, and Benelux.
[3] Based on internal tests.
[4] Fridge capacity: 393L; freezer capacity: 412L. Actual capacity may vary.
[5] Auto Open Door's hinge is placed on the right side of the fridge and wine models and on the left side of the freezer.
[6] Door automatically opens to about 25 mm. If you do not open the door further, it will close automatically after 2 seconds (automatic closing may not be possible in certain environments).
[7] Tested for 125 cycles in accordance with the "Mechanical dishwashing resistance of utensils" test method (BS EN 12875-1:2005) and certified as dishwasher safe by SGS.
[8] Bisphenol A (BPA) is found in polycarbonate plastics and epoxy resins, which are often used in food and beverage containers, and has been linked with possible adverse health effects.
[9] Exclusive to refrigerator model.
[10] To produce flavoured water the Infuser should be filled with your preferred fruits or herbs before use.
[11] Exclusive to freezer model.
[12] Exclusive to the refrigerator model.
[13] Based on internal tests.
[14] Available on Android and iOS devices. A Wi-Fi connection and Samsung account are required.
[15] Food pairing service is available in certain countries
[16] Available on Android and iOS devices. A Wi-Fi connection and a Samsung account are required.
Certainly is raising the bar. Awesome tech upgrades, including wine recognition! Very important
👌