Huh, no new Galaxy Note launching this year and its future is in the air as well. Samsung's one of the iconic smartphone lineup, Galaxy Note, has become the most discussed topic among millions of fans just after the S Pen arrival on the S21 Ultra and Z Fold 3.
Thanks to LetsGoDigital as we now have a possible appearance of the future Galaxy Note phone, may be the Galaxy Note 22 Ultra. Well, the information emerged from the company's design patent application which was spotted on September 10.
Next Galaxy Note to feature S Pen and camera together
According to the news, Samsung filed a new smartphone design patent on March 5, 2021, at WIPO (World Intellectual Property Organization) with the title "Portable terminal including separable camera". And the dedicated S Pen silo is enough to confirm that it's going to become a Galaxy Note phone.
The document of this new design patent shows that Samsung wishes to develop the next Galaxy Note smartphone that comes with an excellent S Pen that has a camera as well. As result, the company can offer a new Galaxy Note phone with a full view display along with a selfie camera with full resolution.
This finding suggests how the Korean phone maker is still exploring new possibilities for a removable S Pen stylus. Therefore, the latest one reveals that the company has filed a new patent for a rod-shaped detachable camera that also has a nib for writing with it.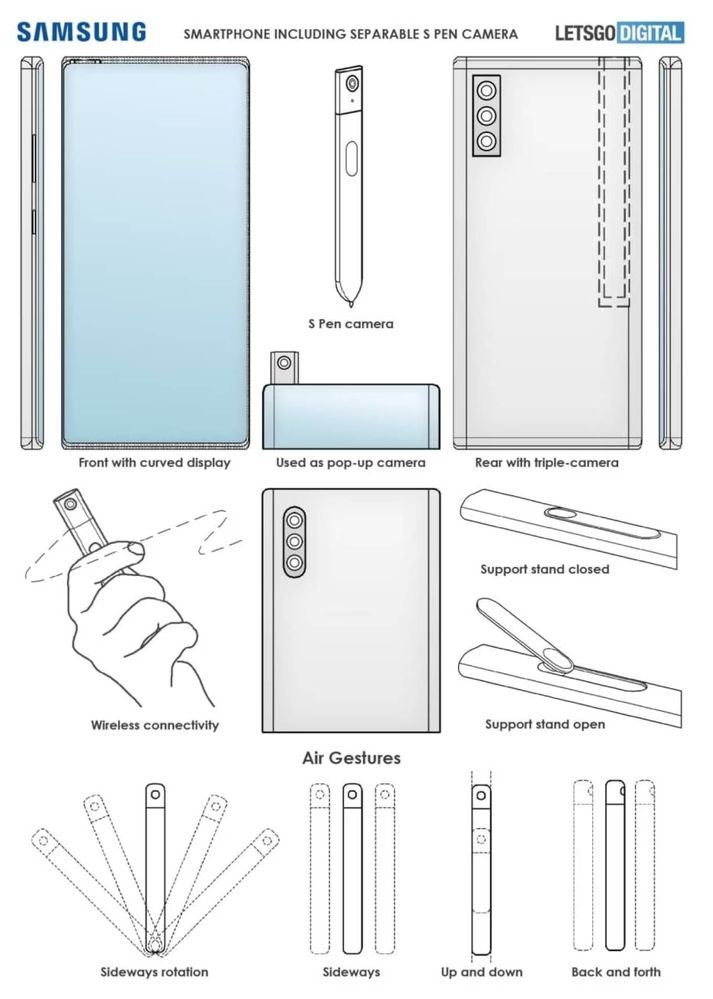 Future S Pen to feature camera as well!
It's likely to become a normal high-end Samsung smartphone, with a beautiful full-screen design and rounded screen edges, only at first glance. On the rear panel, it has triple cameras similar to the Galaxy Z Fold 3, but there's no selfie camera hole on the display and Samsung used a brilliant tech for this.
Patent shows, this future Galaxy Note has a detachable, commonly known as removable, camera system that is as large as the S Pen. Unlike the previous Notes, the removable camera system can be inserted and removed at the top left of the device.
Document confirms that the detachable system includes a camera, microphone and shutter release button. And the company can also add second or more cameras with different lenses with different viewing angles and apertures such as ultrawide and/or telephoto lens.
The new product could replace the traditional S Pen as it is also equipped with a nib and Samsung has clearly thought of everything with this versatile device. With its rod-shaped design, you can easily hold the S Pen Camera in your hand as easily as a selfie stick to capture photos and recording videos.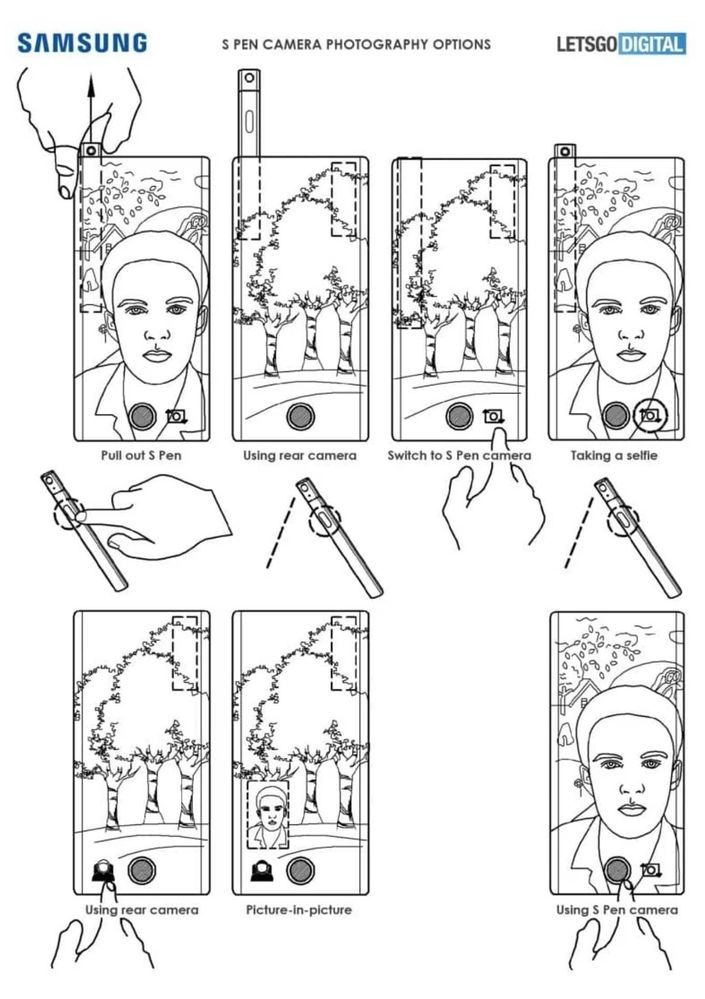 Benefits of S Pen Camera
Consumers can freely choose any composition they want in order to open up new creative possibilities for shooting from different angles thanks to Samsung's S Pen Camera. Furthermore, the remote shooting option also makes it easier to capture everyone, including the photographer.
Possibilities:
S Pen Camera will completely inside the housing.
The front camera is activated, after which the pop-up camera rises from the housing.
The user takes the whole camera system out of the housing to take pictures from a distance and from different angles.
Last but not least, it's not possible to confirm whether Samsung will make such as Galaxy Note with S Pen Camera or not. However, we've just talked to HoiINDI, the well-known concept creator, and he promised us to brought the renders and video graphics of the Galaxy Note phone with an S Pen and removable camera.
Stay tuned!
Saya harap 2022 inilah yang paling terbaru . Kalau ada lagi nanti berlumba-lumba lagi nak kumpul harta Samsung. Offer Peti Sejuk Bila Nak Ada Ni hahaha