Hi, previously i am using
celcom on iphone its just 5g all the way in penanv, after changing to samsung s23 ultra, seems to get only 4g+. How about you guys?
sometimes the 5G logo does not determine its speed, try checking the speedtest as well and compare the speedtest with S23 ultra.
it is also depends on area, sometimes my phone got 5g logo, but the speed is just 30-40mbps
Try checking the network mode to set to this option. If still not working, try subscribing to a 5G internet pass.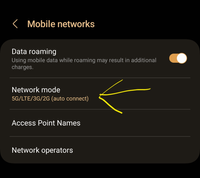 Same issue at Miri. No 5G only 4G+ . Other Phone Note 20 Ultra got 5G.