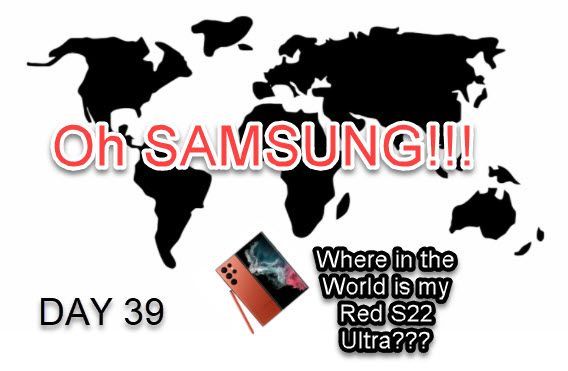 No word!
It's still out there - somewhere in this vast big blue Marble we call the World!
Timeline:
2022-03-20: Posted onto the forum S22 ULTRA Delivery Date Confusion - And Bad Customer Service about my Red S22 Ultra Phone I pre-ordered and how I have no idea where it is! (Being past the delivery due date of course.)
2022-03-21:
First reply from SAMSUNG:
"We would like to inform you that the order is shipped to country which means on the way to warehouse. Once order reaches warehouse, it takes 2-3 business days to reach your end."

No apology - So... where's my phone?

Maybe on a plane, a train, or a boat - green eggs and ham style!

My first reply:
"But that's still not within your actual stated window of delivery - which was March 5th.

It is still bad customer service - and you know that we are loyal that we pre-ordered... You guys should be offering something in lieu of to keep your loyal customers.

Will you guys offer anything???"

My second reply:
"Sigh - how do I articulate, go back to my thread - S22 ULTRA Delivery Date Confusion - And Bad Customer Service...

Look at the last comment I made:
03-21-2022 10:29 PM in Galaxy S
I am the polite antagonist - but look at where I am - how can I recommend anything pre-order from you guys?

I mean - think about it - if you smoothed over the deal, and asked for confidentiality, I would say it here - that you guys stepped up and actually made a difference - that, hey, they got it wrong, but they made up for it.

Seems like a no-brainer to me, no?"


2022-03-22:
Second reply from SAMSUNG:
"Due to all-time high demand, we are expecting a delay on certain models.
Please note that we remain committed to expediting your order as soon as possible and apologize for any inconvenience caused
Unfortunately, as of now Samsung do not have any offers for delayed orders."


2022-03-22:
My rebuttal:
"But that's Samsung's fault - SAMSUNG over stretched - you guys are taking a pounding on the community board... This is not being handled right."


2022-03-23:

What will happen today?

No idea!

As of today, I can see these threads going about - let's all look at them below:

1. S22 Ultra Unbelievable Delay - Samsung should send complimentary gifts for such poor service!

2. S22 Ultra Sky Blue preorder in preparing dispatch status

3. Preparing Dispatch S22 ULTRA

4. S22 Ultra Delay

5. S22 ultra exclusive update

6. Still no phone been over a month, others have receive their phone

7. Still waiting...

8. Still waiting

9. S22 Ultra is Supposed to Arrive on 25/03/2022 but the order hasn't changed from Processing.

10. S22 Ultra Delay Lies

11. S22 U sky blue ? Delayed? Anyone ? Hello?

12. S22 ULTRA Delivery Date Confusion - And Bad Customer Service

13. Your customer service is garbage! Your online pre odering is garbage.

14. S22 ULTRA Delivery Date Confusion - And Bad Customer Service

That's 15 now if you include this thread! - in case you weren't keeping score SAMSUNG!


I encourage everyone to
- if you want to show SAMSUNG how bad their customer service really is -
reply and post what they have told you below!

Now, some ground rules:

1. I encourage posting about the bad experiences, but also the good ones - maybe they have handled past situations right
2. Let's encourage SAMSUNG to learn from the error of their ways - I am an equal opportunity shamer/promoter
3. Be yourself, but don't go overboard!


Have a great Day 39 from me!
Mark
2 Solutions
I am on the same boat. Ordered February 10tg with original delivery date of March 5th.
However, I JUST received an email from Samsung apologizing for the delay and offering a $50 voucher valid from April 1st till December 31st of 2022.
Just logged in to let people know in case they were interested. Mind you, I did send CS an email inquiring about the phone and complaining that it was late.
So I just got FedEx tracking email and it says that the device will get delivered tomorrow. I got s22 ultra sky blue ordered on the launch day. Changed to preparing dispatch on March 17. Took good 6 days for Sammy to ship it after. I am just glad I am getting it finally hopefully tomorrow. Fingers crossed. Lol