Good day all. How do you permanently turn off Driving Mode. I think i did it in Google assistant and everywhere else. But when i drive, then it comes back on in Do Not Disturb, which i had switched, but it returns.
I even checked Google Maps seettings but not much help. It never used to do this before.
Thank you kindly
2 Solutions
Did you set Do Nothing in Driving Mode?
Also, did you set any routine rules and turn on Driving mode automatically?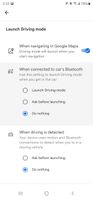 I found the answer! Go in your settings - Google - Personal Safety. You will see the togle on/off for silence notification while driving.