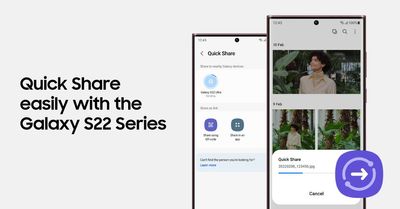 Quick Share is a new sharing service for sending photos, videos, and files with your friends and family. When you've captured a masterpiece, you want to share it quickly with the people who are there in the moment with you, right? You can instantly send to multiple people at a time via Quick Share on Galaxy S20, S20+, and S20 Ultra. File sharing has never been so easy on a Galaxy.
Getting set up is easy — this method of picture and video sharing is so simple, all you have to do is find the photo, video, or file that you want to send and tap the Share button. Select the icons of the nearby contacts you want to send to. Those people have to tap Accept on their phones to receive and complete the process. And that's it! Quickly and easily send files to a group of people all at once.
Discover more about how to use Quick Share on your Samsung Galaxy Device here.
(https://www.samsung.com/my/support/mobile-devices/how-to-use-quick-share-on-my-samsung-galaxy-device...)