I have a s22+ which I updated to one ui 5.1 and I cannot use the object selection tool in the gallery whys that?
perhaps you've encountered a bug. try this:
settings > apps > search "photo editor" > uninstall update by clicking the 3 dots on top right.
after that, update the tool in the galaxy store. should work after that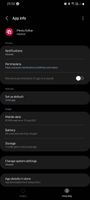 I'm having the same issue with my s22 Ultra, and I tried the fix.
same issue, failed to fix...