when i wake my galaxy s22 i have a message that reads: "secure folder locked". I would rather not see that every time; is there any way I can stop the phone from alerting me to this?
You can't disable it for now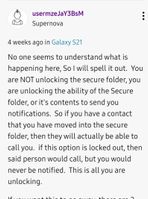 When you wake it up? Or when you restart the phone?
If its locking on wake up, you can adjust those setting in the secure folder. The max you can change is to lock on reboot. This is a security function of Secure folder.