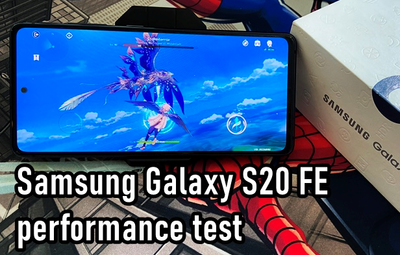 Whenever we post something about the Samsung Galaxy S20 or Note20 series, the most common comment we would see is "Why don't we have the Snapdragon version?" There are some factors involved but it's mainly from a business point of view. Unfortunately, most fans aren't very accepting of it. Well, Samsung listened and in October, they unveiled the Galaxy S20 FE 5G.
The Galaxy S20 FE features a Qualcomm Snapdragon 865 chipset (yay!), 8GB of RAM, 256GB internal storage, a 6.5-inch Super AMOLED FHD+ display, and a 4500mAh battery. Compared with the Galaxy S20, there are only some minor differences here and there. But that's not what we are here to talk about today. Instead, we are going to do some performance tests on the Galaxy S20 FE.
Running Benchmark Tests
For smartphone reviews, it's standard practice to run benchmark tests on a device. Granted, numbers aren't everything but it's a good indicator of how well the chipset performs. Here, we used the 3DMark and Geekbench 5 benchmark apps and obtained the results below.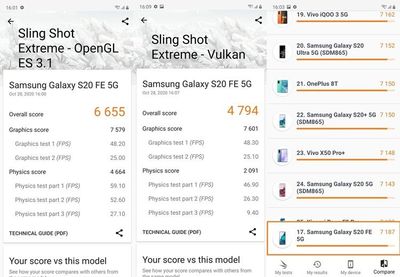 The scores on 3DMark in SlingShot Extreme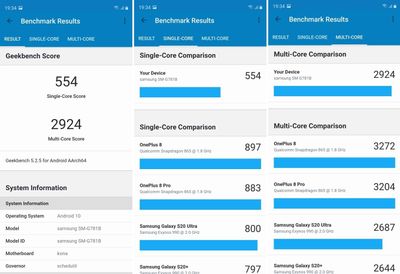 Geekbench 5 scores
Starting with 3DMark, the phone scored 6655 points (OpenGL ES 3.1) and 4794 points (Vulkan) in the Sling Shot Extreme benchmark. If you compare this with other devices, its overall score of 7187 is quite good and is even slightly higher than all the Galaxy S20 series smartphones that are using the Snapdragon 865 chipset. If you're wondering about the Exynos version, let's just say it isn't in the top 30.
Onto Geekbench 5, it scored 554 points in single-core and 2924 in multi-core. If you refer to the benchmark screenshots of the Galaxy S20 Ultra and Galaxy S20+ above, you can see that the single-core performance is not anywhere near the other Galaxy S20 devices but it performs better in the multi-core segment. Now that we are done with the benchmarking, let's move on to the mobile gaming experience.
Mobile gaming performance test
To test the Galaxy S20 FE performance on mobile gaming, the three mobile games that we have chosen were Asphalt 9, Call of Duty: Mobile, and Genshin Impact. We also set the refresh rate to the highest at 120Hz and got down to testing. In addition to that, we recorded some gameplay just so you can see how the graphics would look like on the phone.
Excuse us for the delayed audio recording, but graphics were as smooth as a baby's bottom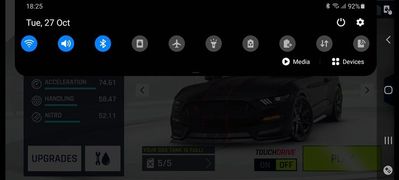 Started the game at 6:25 PM, battery level 92%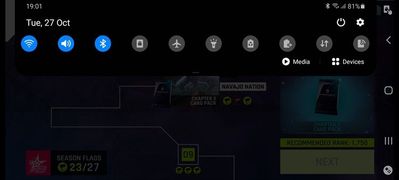 30 minutes later, the battery level went down 9% as expected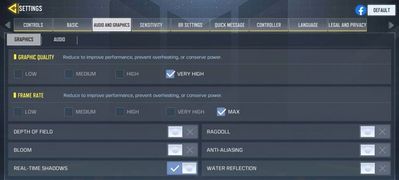 Next, maxing everything in COD: Mobile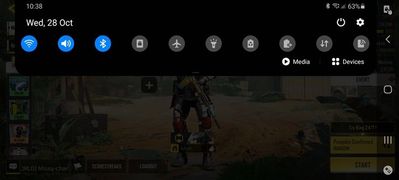 Started at 10:38 AM, battery level 63%
SAY HELLO TO MY LITTLE FRIEND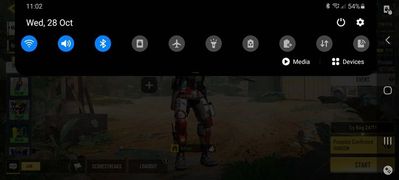 After around 20 minutes, another 9% of the battery was drained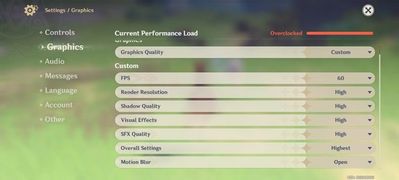 Final test - Genshin Impact on FULL SETTINGS
FACE ME, STORMTERRORRRR (again, sorry for the audio delay lol)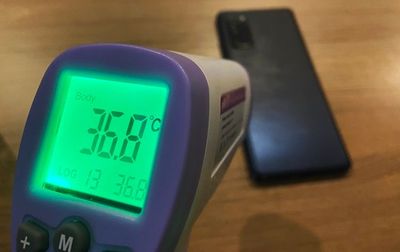 This is how hot it gets after gaming for some time
As expected, the Galaxy S20 FE drained about 9% of battery after playing Asphalt 9 for 30 minutes (or sometimes 10%) and the same applied to COD: Mobile. It is with confidence that we say the Snapdragon 865 definitely performed well here. What's more, playing Genshin Impact on this phone feels different and the chipset does bring the best graphics performance out of the mobile game with max settings. That said, the phone does get hot while you're gaming but thanks to the polycarbonate body build, at least your fingers won't melt. Slapping a protective casing should solve any problems of it feeling warm easily.
The Samsung Galaxy S20 FE is available in six different colours - Cloud Navy, Cloud Lavender, Cloud Mint, Cloud White, Cloud Orange and Cloud Red. If you're interested, you can get it from any Samsung Experience Store, authorised dealer and Samsung's online store. At RM3399, the Fan Edition comes with a complimentary and exclusive Clear Standing Cover worth RM119, which is based on a first come first served basis, while stocks last.