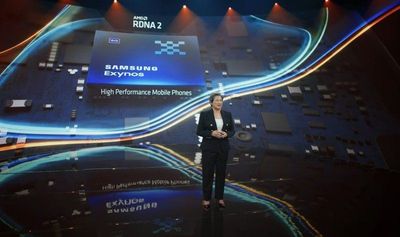 In May, we learned Samsung and AMD had partnered on the Exynos 2200, a 5nm chip meant to power Samsung's upcoming phones and Chromebooks. We then learned AMD planned to add RDNA2 tech to Samsung phones, which would add "ray tracing and variable rate shading" to "high performance mobile devices" like the S22 series. Given that Samsung typically uses Snapdragons for US phones and homemade Exynos chips internationally, the new Exynos could have given the latter version the edge in performance.
Unfortunately, another recent Naver leak suggested Samsung is struggling to create enough Exynos 2200 chipsets to scale, possibly due to chip shortages. That means the S22 will likely run off of the Snapdragon 895 in most markets. Given that the PS5 and Xbox Series X use the same AMD GPU tech found in the Exynos chip, gamers will likely find this disappointing.
That same leaker claimed that the Galaxy S22's RAM and storage won't change from the S21 lineup. That would mean 8GB and 128/256GB for the S22 and S22+, and an upgrade to 12/16GB of memory and up to 512GB SSD with the Ultra.
Mysteries about the S22 chipset aside, all of the other major rumors have concerned the S22 Ultra cameras. One S22 Ultra leak suggested it would have continuous optical zoom technology, which shifts the position of lenses in the camera in real time to provide better shots regardless of the focus; it also claimed it would have an under-display selfie camera.
Our Galaxy Z Fold 3 review said its under-display selfie cam blended in really well with the display, but also that its camera quality was "horrible." So we're unclear whether the technology is ready for a flagship phone or not.
Since then, we learned that Samsung is developing a 200MP Olympus camera, rumored to appear in the S22 Ultra. The same leak suggested the S22 and S22+ would upgrade their main cameras to 50MP.
However, a subsequent leak confirmed the 200MP sensor's existence but said Samsung would stick with a revamped 108MP sensor for the S22 Ultra; instead, a 2022 Xiaomi Mi device will use Samsung's 200MP tech before any other phone.
Samsung Galaxy S22 Software
Just as the S21 series shipped with One UI 3.1 out of the box, it's virtually guaranteed the Samsung Galaxy S22 will come pre-installed with One UI 4.0 — or possibly 4.1, if Samsung has made significant changes to the new interface by then.
We know that the One UI 4.0 beta — based off of Android 12 — will begin in September with the S21 series and move on to older Galaxy phones in October. From there, it's highly likely the first initial One UI 4.0 version will come to the S21 by the end of 2021, making it primed and ready for the S22 in January.