The "worst flagship processor": Samsung Exynos 2200 with AMD RDNA 2 GPU gets no love from noted leaker in deleted tweets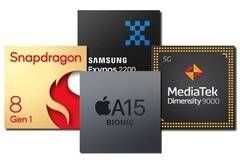 The Samsung Exynos 2200 is purportedly struggling to keep up with the competition.
Some damning tweets have been quickly deleted on the account for Ice universe, who is considered to be one of the most popular and reliable leakers on the tech scene. As is the unfortunate nature of posting something online, the tweets were captured and rapidly shared. Ice universe frequently comments on Samsung devices and was clearly not impressed by the performance of both the CPU and GPU parts of the Exynos 2200, despite the processor having AMD's RDNA 2 expertise onboard for graphics processing.
The first tweet in the miserable series for Samsung actually focused on the failure of the custom AMD iGPU to defeat its rivals in an unnamed test that featured the Galaxy S22 smartphone. Not only did the Exynos 2200's GPU fail to beat the Mali-G710 MP10 in MediaTek's Dimensity 9000, it was also way off bothering Apple's A15 SoC or the Snapdragon 8 Gen 1's Adreno 730 GPU. No figures or data were provided, with Ice universe simply exclaiming that AMD's GPU part was "far behind" both the Qualcomm and Apple chips.
For those hoping that perhaps the CPU part of the Samsung Exynos 2200 SoC could make up for any apparent deficiency with the RDNA 2 GPU part, there was more bad news from the same source. A follow up post from a commenter quizzed the leaker about the CPU performance, with Ice universe throwing tact to the wind by simply condemning the Exynos 2200 as "still the worst flagship processor" and proclaiming "ofc" (of course) when asked if it was worse than the Snapdragon 8 Gen 1.
However, as mentioned above, these tweets have now been deleted. It is possible the leaker either received the wrong information or utilized an unreliable source or there has been a mistake with the (unseen) data, thus perhaps shining a potentially more positive light on both the Exynos 2200 CPU and AMD RDNA 2 GPU. The fact is, one of the four flagship processors has to be the "worst" one anyway, regardless of the stigma that unwanted title might deliver. But there were high expectations when it became known that Samsung was working with AMD to try to deflect some of the flak its Exynos SoCs often receive.