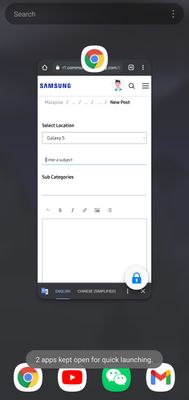 As in the picture showed after I kept the Google for quick launching, then it showed 2 apps but then I can't find the other app that is already lock for quick launching, and I did even try open all apps to see which app is lock for quick launching, but can't find any. So please someone help me, tried restart my phone but not works.
Wipe Cache Partition.

1) Turn off the device.

2) Press and hold the Volume Up key and the spower button.

3) When the Android logo displays, release all keys.

4) Press the Volume down key to navigate and select "Wipe cache partition".

5) Press Power key to select. When the wipe cache partition is complete, Select Reboot System.

6) Press the Power key to restart the device.

All The Best.
Hi Rj, I'm gonna try it out later, just wanna make sure it's not gonna effect others app on my phone? Thank you.