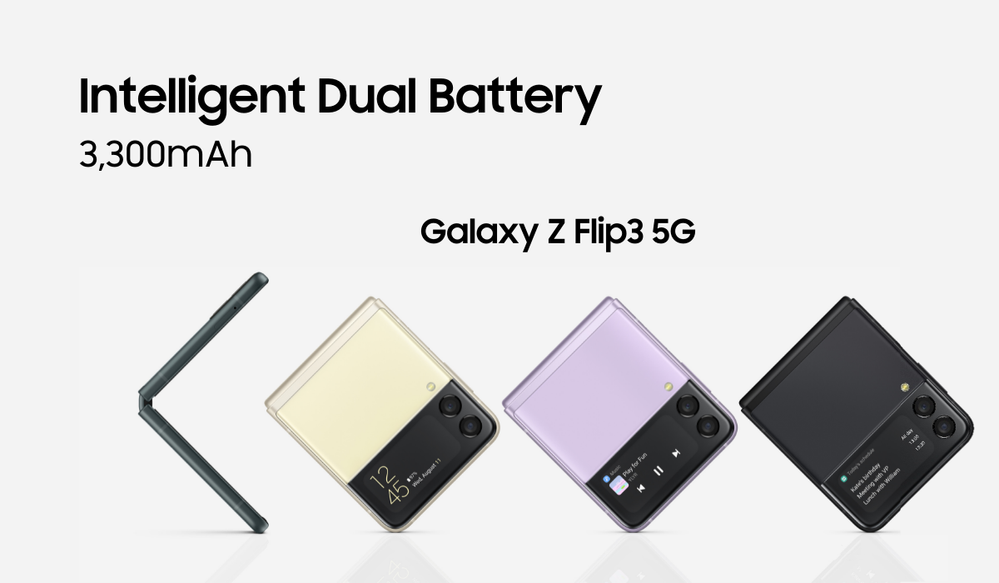 Did you know ? Galaxy Z Flip3 is equipped with a dual battery.
The Z Flip comes with 3,300 mAh (Typical*) intelligent dual battery.
The unique thing about the Z Flip3's battery is that it's a dual-cell battery, divided into the top and bottom to ensure stable charging and consumption.
Goal was to make Galaxy Z Flip3 as thin as possible while accommodating two displays and a better battery capacity – to achieve this, Samsung installed a battery on each side of the display and created new battery management technology to detect remaining power and control the flow.
Each battery comes with a temperature sensor to prevent overheating.
All Samsung smartphones undergo a rigorous 8-point internal inspection test, and are constantly held to Samsung's state-of-the art quality standards.
Options
Mark as New

Subscribe

Email to a Friend
May i know, is it true z flip 3 didnt support super fast charging?
Options
Mark as New

Subscribe

Email to a Friend
Ooo so why the top one easier hot then bottom
🤔
use only 3-5min