Hey Samsung Members!
Did you know that you can play a quick game directly from your Galaxy phones without downloading anything from the Play Store and Galaxy Store?
Yes! This is possible with Instant Plays!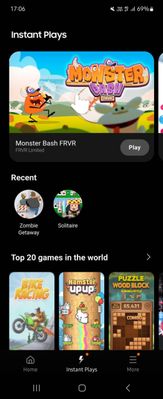 Instant plays provides simple games such as poker and puzzles in order of popularity. This is super useful if you want to play some games to pass time when you are out on the go!
You can find Instant Plays in Game Launcher which is a pre-installed app on your Galaxy phones. Try it now!
For more Gaming news & tips, join our GAMEPLAY Watch Party on 1st December 2022!

Stay tuned, or visit this link for more details.