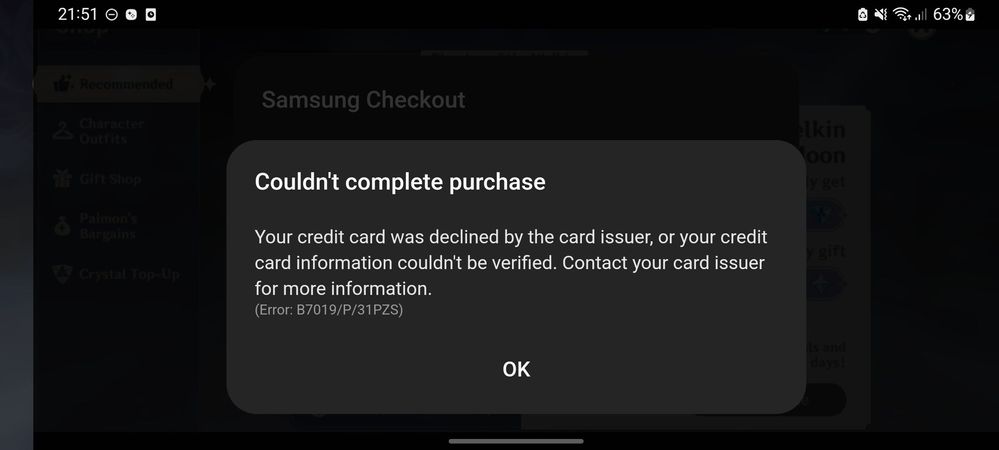 Hi! This error seems to pop up when I try to purchase ingame stuff via the app I installed from Samsung Store. However, when I tried the one from Google Playstore, it worked fine
😓
Any work arounds here? I like the Samsung Store version as it seems less laggy than the one from Playstore. Thank you!
could be a bug,is the samsung store upto date, try turning off powersave mode
Hello RGeb,
Thank you for reaching out to us here at Samsung; we care.
Really appreciate your great buying interest through our On-line Samsung store and it seems you've encountered minor glitch either through the issuing bank processes delay as well as lagging internet connections.
You may check and rectify the following possible reasons:
1) Call the Issuing Bank Service Center to find out more about information on the error codes you've received
2) Ensure strong Wi-Fi connectivity and/or call the Network Service Provider about the signal in your coverage area.
3) Select any of other payment methods as follows:
• Cash on Delivery (COD)
• Credit / Debit card (VISA/Mastercard)
• GCash
• Grab Pay
• Interest-free (meaning no add-on charges or 0% interest) installment plans up to 24 months via credit card (supported bank/s: BDO and Metrobank)
• Internet banking
What payment methods do you accept? | Samsung Philippines
https://www.samsung.com/ph/shop-faq/payment-and-financing/what-payment-methods-do-you-accept/
Please find out the Latest Samsung Promo & Offers
Promo & Offers 2022 | Samsung Philippines
https://www.samsung.com/ph/offer/