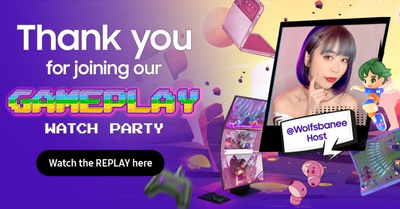 Our regional Members-only GAMEPLAY Watch Party yesterday was so much fun! Thank you all who joined us and was part of our Community
gathering.
The winners will be announced on 8th December 2022 so keep a lookout if you have submitted your entries!
#ICYMI, you can watch the replay of our livestream here https://www.samsung.com/sg/members/watch-party//gameplay-1-dec/

We'd also like to apologise for the technical issues that we experienced yesterday, but thank you for staying on and being a part
of GAMEPLAY Watch Party.