I can't turn up or down my volume or even use the volume panel. It's locked. Also, everything is automatically muted.
Edit: I accidentally turned on mute all volume 🤦‍♂️
Did you try using the up and down buttons on the side of the phone? Another thing to try would be going into settings, sounds and vibration, tap the sound icon until it turns blue. That might work.
Try open Settings → Sound and vibration → Volume
Check Use Volume keys for media if it has enabled.
Also make sure Do Not Disturb is not turned on.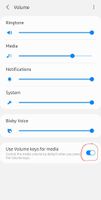 I was just stupid, sorry.