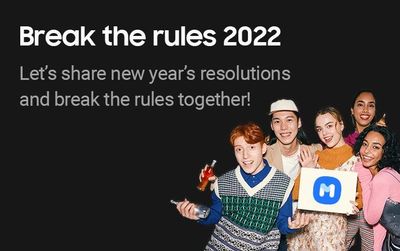 Let's kick off the New Year with bang!
We've got some exciting reveals and we want YOU to be a part of them.
Here's your chance to win an EXCLUSIVE Unpacked Kit and join our global Samsung Members Live event (online), hosted by a very special someone famously known as 'Ali'.
Yup, that's right! It's the one and only Squid Game actor, Anupam Tripathi, who'll be hosting the event!
Simply follow the steps below to confirm your participation. All the best!
New year's a great time to break from your comforts and safe paths to create a unique and amazing way forward.
Let's try a different take inspiration from each other's New Year's resolutions and break away from conformity together!
[How to participate]
Set your New Year's goals related to the theme 'Break the rules'
What do we mean by "Break the Rules"?
To think out of the box and breakthrough your own limitations, any positive, inspiring and innovative actions.
Visualise your resolutions with pictures or videos

Upload them on your social media feeds and in the Members community to keep your motivation high.

Don't forget the hashtags: #SamsungMembers #Breaktherules2022 #SamsungUnpacked
[Program details]
Commence on 26 January 2022 and close on 2 February 2022, 2359hours Singapore Time
3 winners will be selected based on the top "numbers of likes" with related contents
Winners will be notified on 4 February 2022
Winners will be able to join the very exclusive global Samsung Members Live event (livestreaming) & receive an exclusive Unpacked Kit
*Fun fact*: Anupam Tripathi (Actor in Squid Game), will be one of our special hosts for Samsung Members Live event!
[Terms & Conditions]
Please refer to below link.
https://r1.community.samsung.com/t5/others/terms-amp-conditions-break-the-rules-challenge/td-p/14995...
Wow! Everyone Wait no further!Come join in