Options
Mark as New

Bookmark

Subscribe

Email to a Friend
In mid-July, Gboard's Play Store listing added a cryptic changelog that mentioned voice dictation translations. We started looking for signs of that feature and couldn't find any until now, when it finally showed up on the latest Gboard beta v9.7. Google has also confirmed to us that it's rolling it out to everyone.
The ability to translate right in the keyboard isn't new to Gboard, nor is the option to dictate words, but the two never worked together. Now, you can use voice dictation while the translation interface is open. Just look for the microphone icon to the rightmost of the Gboard toolbar. In previous version of the keyboard, this icon wasn't there when the translation mode was active. In the latest one, it's showing up for some users.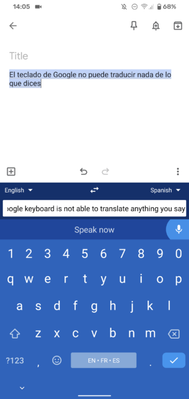 Tap the mic, wait for the audio cue to start talking, then dictate whatever text you want. As you're speaking, the words will be transcribed in their original language in the translation box on top of the keyboard, but will be entered in the second language in the app. As with any translation coming from Gboard, you can tap the blue-highlighted text to switch between the two languages or delete it, or you can exit the translation mode to manually edit any word.
Text entry is a little slow to get going when you try this, but once it does, the lag is acceptable considering Google is simultaneously handling both transcription and translation. All language combinations that are supported by Translate seem to be compatible with this feature, and even automatic language detection worked well for me when I chose it and spoke in French. Punctuation insertion by naming the symbols worked well too, in both French and English.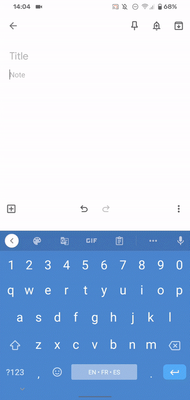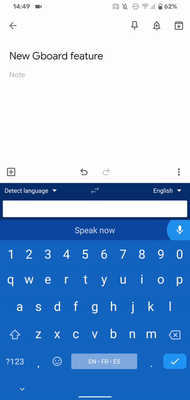 Left: Speak in English, translate to Spanish. Right: French to English, hitting the 200-character limit.
The only issue I encountered was the character limit in the translate box. While regular voice dictation in Gboard can go on and on, the Google Translate box only supports 200-characters, which is about two to three medium sentences. You can see that in the GIF above, on the right.
The real-time translation works with both Gboard's existing voice dictation interface as well as the new Assistant-based UI we covered yesterday. In the GIF below, look closely behind the dark Assistant overlay and the Close/Delete buttons to see the original English words as they're being said.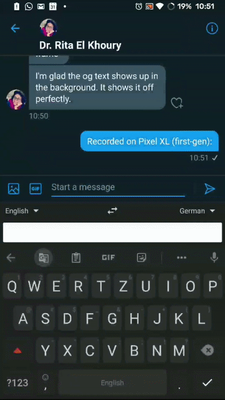 Overall, this feature is akin to Google Translate's real-time transcription, and we wouldn't be surprised if it used the same mechanics, except you can access it directly through the keyboard in whichever app you're using. You don't need to open Translate to use it then copy the resulting text into other apps.
The minimalist Gboard where this feature was announced is below:
WHAT'S NEW
Translate online using voice dictation for effective communication.
Google told us real-time transcriptions and translations have rolled out for everyone, but in our experience, the microphone icon is still missing on some devices, so the server-side switch may still need to be flipped for some. To use it, it seems that your odds are higher with Gboard 9.7 beta, which you can grab from the Play Store
Options
Mark as New

Subscribe

Email to a Friend