Options
Mark as New

Bookmark

Subscribe

Email to a Friend
Here is the statement of events about my Samsung S10e as described by my wife. Hope you like it!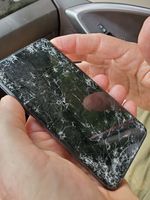 RUN OVER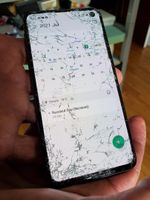 KEEPS ON TICKING!So the story about the smashed-up glass on Gary's phone is that on the 5th of July he put his cell phone on the car rooftop to change shoes, forgot it there & off we drove for the beach at Sandbanks. Several hours later, he realized it was missing. Losing the phone was not as big a deal as losing all the photos on it.
When we got back to the hotel, a Google Phone Search App told us the phone was actually not far away, in/around the highway entrance to the long tall bridge over the St. Lawrence Seaway. As dusk approached & severe thunderstorms gathered, we dashed off to scour the area for the phone, trying to listen for the ringer because the app had established connectivity.
But then a doozy of a storm hit! It was wicked; coming down in torrents with wild incessant lightning directly above us. We couldn't see or hear a thing for its rage; we got DRENCHED. One last ditch effort. We drove to the base of the bridge slope, Gary stepped out with the umbrella & lasted 20 seconds before rushing back in the car. "This isn't worth it to get killed over," were his words.
So the next morning, buoyed by the app showing the phone still had a 48% charge, off we went again in search of the elusive electronics gone for 22 hrs & certainly damaged from the soaking -- and likely the beating -- it'd gotten. 40 mins by foot turned up nothing so Gary suggested we drive up the bridge to have one final look, see if it might be on the roadside. As we climbed, he thought he spotted the blue case of his phone! There was no stopping to check; we had to cross the length of the huge bridge & double back.
Back on our side of the bridge, Gary walked up the sidewalk, looking through his binoculars for the case he'd spotted a few minutes before. He could see the case through the binoculars; it was a wreck & without a phone. With my cell phone, he used the Google app to activate the ringer on his phone & then heard a faint but familiar ring! He whirled around & followed the ring coming from down the bridge. The ring got louder & then he saw it, facedown beside the concrete barrier separating the sidewalk from the roadway, 20 metres away from the case, on the opposite side of the road! He reached down, picked it up, still ringing, still working, still charged, despite being thrown from a car doing 80 kph on a climb, despite being driven over who knows how many times, despite getting a thorough soaking in a torrential storm. And, it's a Samsung.