« Donnons à César ce qui revient à César »
Que de chemin parcouru par Samsung Canada envers les francophones depuis mon arrivée en tant que Membre Samsung en février 2019 .
Pour ceux qui n'étaient pas là, sachez qu'il n'y avait en 2019 aucune aide véritable pour les francophones, tout était majoritairement en anglais, que ce soit les modérateurs, les annonces Samsung, les produits, les articles, les posts qu'on devaient écrire en anglais car il n'y avait aucun Modérateurs parlant français pour nous donner des réponses et bien d'autres choses encore. Que de chemin parcouru !!!
Il y a eu des pionniers pour déblayer ce chemin, que ce soit @CHMultimedia, @Shaggyskunk1 mais aussi celui qui dirige Samsung Canada soit @Steve01, qui suite à de nombreux commentaires pas toujours gentils fait par les francophones dont moi-même, a probablement été l'instigateur de ces changements importants. Il y a aussi eu de nombreux membres anglophones Samsung qui ont mis leur traducteur en fonction afin de nous aider, je les remercie donc aussi pour leur aide, que ce soit @Mytech, @Tallman, @Gokongming, @Yoshisaur9, @Vic20 et plusieurs autres , MERCI
Maintenant, grâce aux efforts de tous et chacun, on peut remarquer que les français ont réussi à prendre leur place dans cette communauté bilingue, les annonces se font maintenant dans les 2 langues ainsi que les concours et/ou même les promotions et les articles français parfois mis en vedette.
De plus, il y a même des Modérateurs parlant français ...ENFIN
Je me permets donc de remercier personnellement @Steve01 et aussi @Jeremy_from_Samsung qui a pris la peine d'utiliser le traducteur pour nous répondre et/ou communiquer avec nous sur le forum et même en privé et mettre en évidence certains articles rédigés en français et j'espère que @Community_Moderator fera de même ce qui nous permettra de faire évoluer ce forum.
J'espère que dans un avenir rapproché, nous aurons des mises à jour plus rapidement et pour plus d'années et que nous aurons les mêmes « SPÉCIAUX » que ceux de nos voisins américains.
J'espère aussi que Samsung offrira un meilleur service après-vente et qu'il instaurera avec ses clients un lien de confiance tel qu'a su le faire Apple.
Voilà les futurs défis de Samsung Canada. Encore une fois MERCI à @Steve01 et son équipe. Bon travail !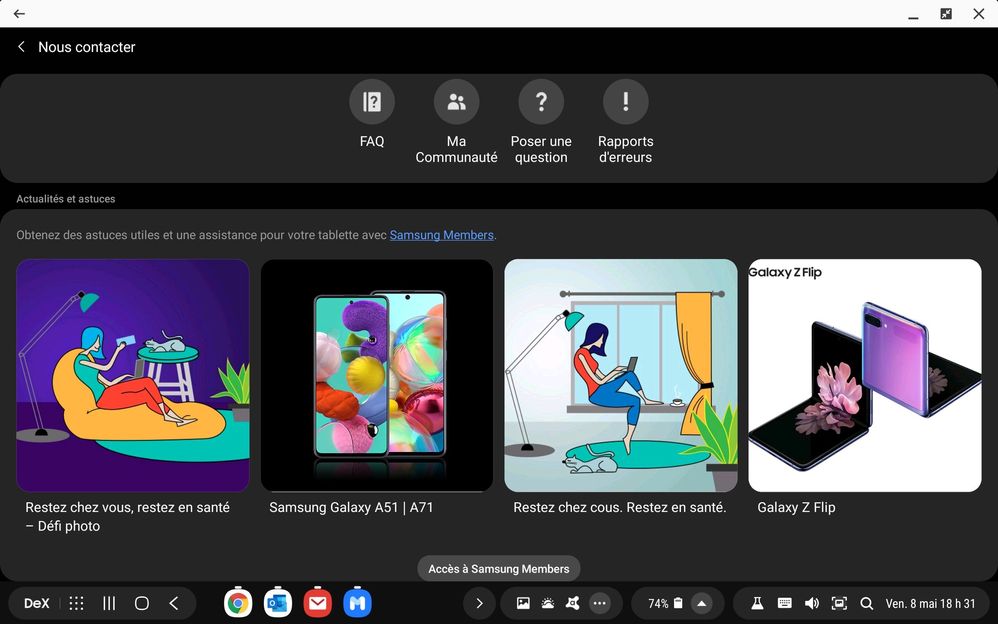 "Let us give to Caesar what is due to Caesar"
What a long way Samsung Samsung has traveled towards French people since my arrival as a Samsung Member in February 2019.
For those who were not there, know that in 2019 there was no real help for French people, everything was mainly in English, whether moderators, Samsung ads, products, articles, posts that we had to write in English because there were no Moderators speaking French to give us answers and many other things. What a long way!
There have been pioneers to clear this path, be it @CHMultimedia, @ Shaggyskunk1 but also the one who runs Samsung Canada, @ Steve01, who following many comments not always nice made by French people including myself, probably instigated these important changes. There have also been many English speaking Samsung members who have put their translator into operation to help us, so I also thanks them for their help, be it @Mytech, @Tallman, @Gokongming, @ Yoshisaur9, @Vic20 and many others, THANK YOU
Now, thanks to everyone's efforts, we can notice that the French have managed to take their place in this bilingual community, announcements are now made in 2 languages ​​as well as contests and / or even promotions and French articles. sometimes featured.
In addition, there are even French speaking Moderators ... FINALLY
I would therefore like to personally thank @ Steve01 and also @Jeremy_from_Samsung who took the trouble to use the translator to answer and / or communicate with us on the forum and even in private and to highlight certain articles written in French. I hope that @Community_Moderator will do the same which will allow us to develop this forum.
I hope that in the near future we will have updates faster and for more years of updates and that we will have the same "SPECIALS" as those of our American neighbors.
I also hope that Samsung will offer better after-sales service and that it will establish a relationship of trust with its customers as Apple has done.
These are the future challenges for Samsung Canada. Again THANK YOU to @ Steve01 and his team. Good work !