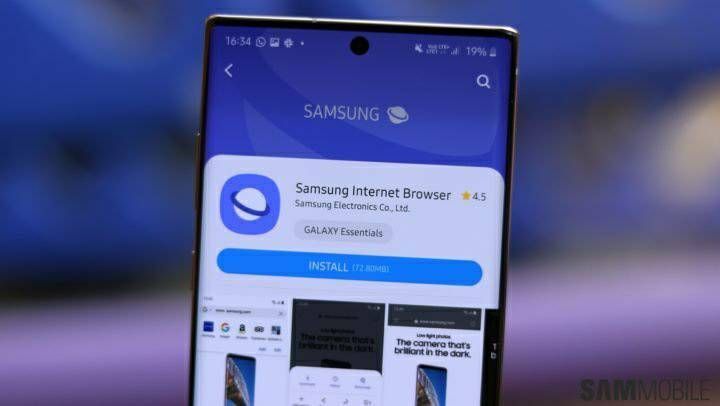 A new version of Samsung Internet started rolling out globally, introducing a wide variety of feature improvements and bug fixes to the popular Chromium browser. Identified by build number 12.1.2.5, this latest app update is all about polish. For starters, it further refines the browser's Dark Mode functionality by touching up some interactive elements, such as the Find on Page box, in order to make them easier to spot while the lights are off, so to speak.
Samsung Internet 12.1.2.5 also polishes the app's ability to display and navigate desktop pages. For example, it eliminates a well-documented pop-up zoom error that often prevented seamless desktop zooming in the past. The root of the issue was likely some peculiar javascript interaction, though Samsung didn't provide any details on the matter beyond listing the issue as fixed.
Samsung Internet 12.1.2.5 is all about polish
Speaking of zooming, the new version of Samsung Internet also improves pinch-to-zoom functionality for mobile pages. Video Assistant-specific enhancements are part of the package as well. The most obvious progress in this regard comes in the form of way more reliable switching from picture-in-picture video playback to a full-screen player. In previous versions of Samsung Internet, this simple course of action frequently produced generic errors which were occasionally accompanied by app freezes. That feature should finally work as intended once you're running version 12.1.2.5 of the app.
Finally, the newest Samsung Internet release ships with elevated geolocation accuracy, as well as a range of smaller bug fixes and general-purpose performance optimizations. Samsung is rolling out the update in a gradual manner, both via the Google Play Store and its own Galaxy Store storefront. If you're feeling particularly impatient, you can also sideload the newest version of Samsung Internet by taking advantage of SamMobile's APK archives.