Admit it: straightforward of household duties. Besides the tricky sorting, there're settings to fuss over and detergent amounts to measure out.
Get it wrong and you might find your favourite tee one size smaller. But do it right and a clean pile of freshly-laundered clothes comes out smelling like heaven.
With the launch of its range of QuickDrive washers and Heatpump dryers, Samsung is hoping to shift the needle for laundry chores by turning the necessary into nice. It does this with a complete rethink by prioritising the busy modern homeowner who values efficiency. After all, what is technology for if not to give one more ease and a better quality of life?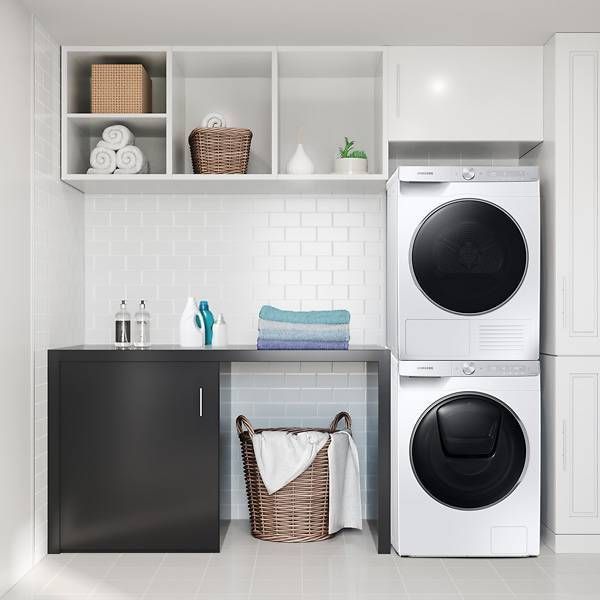 Combining clever engineering, intelligent support and an image refresh, Samsung's QuickDrive technology nips the biggest pain points about laundry to make you fall in love with it once again.
That's for your energy, time and effort. Samsung's QuickDrive models are designed with these three pillars in mind because laundry shouldn't be all that hard, especially when science is on our side.
Leverage frothy power with Q-Bubble technology in selected models. By combining more water shots with robust drum rotations, you get a more penetrative wash in a shorter time. Add more foamy action with QuickDrive's EcoBubble feature, which transforms detergent into fine bubbles for a more efficient wash while remaining gentle on clothes.
Cleaner, yes – but faster, too? Half your washing time thanks to Q-Drum technology, which also promises lessened energy use by 20 per cent1, earning it its 4-tick water efficiency rating. The clever design of isolated 'main drum' and 'backplate' parts allows them to rotate independently to generate a powerful wash from the dual forces.
And if you're really pressed for time, let the Super Speed cycle save the day. Go from dirty pile to clean load in just 39 minutes2 flat, with Speed Spray giving a quick, thorough rinse from additional jets of water injected into an accelerated spin speed.
For those days when you feel like adding extra protection to the wash, Hygiene Steam will sanitise your clothes, ridding them of bacteria3 and allergens4 by up to 99.9 per cent.