My galaxy buds ™ right earbud just sounded a very annoying high pitched feedback I thought I was having tinnitus and the left disconnected and reconnected. I checked my phone, it only could detect the left earbud. I tried switching bluetooth off and on, putting the earbuds in the case then closing and opening the case after a couple of seconds, unpairing and pairing them again, restarting all the settings in the wearable app, hé|| I just stopped listening to music and put the buds in the case with the right earbud still emitting the sound.
a while ago as I started wearing them, the earbuds prompted pairing mode - kinda, cause they were beeping in my ears as if they were when they're already connected to my phone and playing music. I switched the bluetooth off and on and went on with the music. Then after about maybe an hour, that feedback thing happened I had to stop using them.
After about another 1 hour, I checked and didn't hear the feedback so I tried to use it. I was in a commute so at the back of my head, I was thinking like "people would see a Samsung user struggle to use Samsung devices" and "will it work now?" aha.. To my surprise, it seems like the buds reverted to my pervious setup before the reset. But my phone could not connect to them. I unpaired and paired again, they could be found and be paired with the phone but the phone says "failed to connect". I checked the wearable app, it said the earbuds are not connected. I had to redo the same process about 5 more times before it finally worked. gosh what did I do to deserve this? I could imagine myself falling asleep in a long commute and let Samsung reminder sound to wake me up before reaching the next terminal but this.
After OneUI 4 update (I think), the earbuds occasionally disconnect and reconnect but I ignore it. it appears like sometimes, the left earbud were confused of whether it would summon Bixby voice (the way it's set up) or start ANC (the way the right bud's set up) and it's really annoying.
Sometimes I just wanna get a hammer and crush these out of frustration ha ha ha..
Maybe I have to change some settings?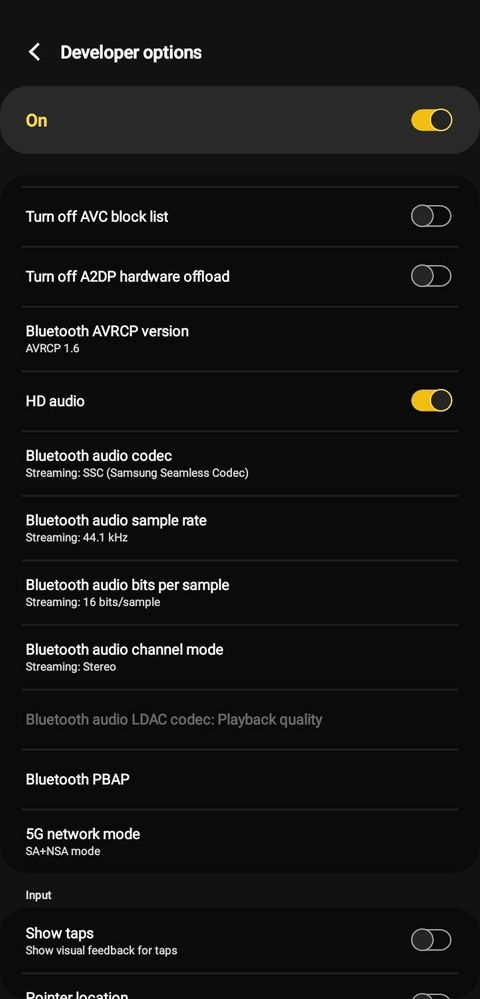 Better bring it to Service Center...They will diagnose and offer solutions.
Are the settings activated in dev mode supported by the buds?
Hello EllisKai,
Thanks for letting us know that your Samsung Galaxy Buds Pro is having connectivity issues.
Understand how frustrating it can be when you're trying to fix performance issues on your Samsung device but can't. But don't worry. We will provide quick fixes and help you solve your device issues. Follow these simple steps to troubleshoot and find out what's causing your device's performance issues.
A) First, ensure that your device is up-to-date with the latest Software updates.
Settings > About Phone > Software Updates > Download and Install > Follow On-screen instructions.
B) Try the Galaxy Earbud fit test.
You can use the Galaxy Earbud fit test if you're not sure that you're getting the best possible sound quality and active noise cancelling. In the Galaxy Earbud fit test, while wearing the Galaxy Buds2, speakers in the earbuds emit a chime sound into the ear to detect and calculate bouncing sound that escapes through your earbuds for any sound loss. An ear tip showing the least sound loss would be recommended as best fit. Follow the steps below to test your ear buds.
Step 1. Launch the Galaxy Wearable app on your mobile device and tap Earbuds settings.
Step 2. Tap Earbud fit test.
Step 3. Wear both earbuds in your ears, and then tap Start. The earbuds will emit a sound and the test will begin.
Step 4. If the results on the screen say you need to adjust your earbuds, try adjusting your earbuds or changing the ear tips, and tap Retry to start the test again.
Notes :
If you remove the earbuds from your ears during the earbud fit test, the test will stop.
You may need different size ear tips for your left and right ears.
The Galaxy Earbud fit test is a feature that is provided for reference so that you can wear the Galaxy Buds2 correctly. If the results on the screen say you need to adjust your earbuds, try adjusting your earbuds or changing the ear tips, and tap Retry to start the test again.
https://www.samsung.com/ph/support/mobile-devices/find-the-best-fit-for-your-ears-with-the-galaxy-ea...
C) Sync Buds Pro by using SmartThings app.
If the device has Bluetooth and is compatible with SmartThings, you'll be able to control it directly from the SmartThings app.
D) Report error through Samsung Members app.
Step 1. Long press Samsung Members icon on Apps screen and Tap Error reports.
Step 2.Tap OK on agreement popup for sending system log data.
Step 3. Select Symptom category. Tap "Networking/Connectivity".
Step 4. Describe problem in detail and SEND.
https://www.samsung.com/ph/support/mobile-devices/how-to-submit-an-error-on-samsung-members/#:~:text....
E) For more assistance, you may contact us on our online Samsung support channels below.
https://samsung-livechat.sprinklr.com/seao/ph/index.html
F) Or Contact our Samsung direct hotline numbers below.
#GALAXY or #425299 [Mobile Phones & Tablets]
Available 24/7
1-800-10-7267864 [All Product, Toll Free, PLDT]
1-800-8-7267864 [All Product, Toll Free, Globe]
842 22 111 [All Product, Landline]
Daily (8:00 AM to 8:00 PM)
G) If the problem persists, immediately bring your device to nearest Samsung Authorized Service Center.
https://www.samsung.com/ph/support/service-center/
Hope this content is helpful and your problem gets solved.
Make sure to click the ACCEPT AS SOLUTION button in your subsequent response, if we have satisfied your inquiry.