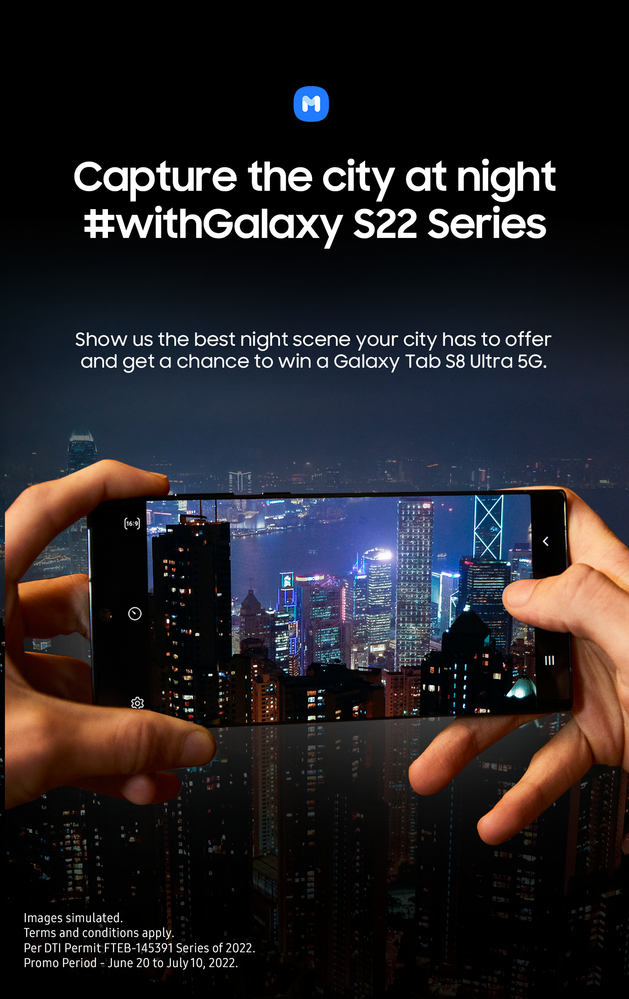 Congratulations to our winner:
JaneyC!
You just won a Galaxy Tab S8 Ultra 5G!
We'll be sending you an email soon to confirm your prize.
Didn't win this time? Don't worry - we've got more in store for you.
Keep on posting on Samsung Members!
------------------
The Galaxy S22 Series come with #Nightography features, perfect for taking cityscapes at night!
Show us the best night scene your city has to offer and tell us #whyGalaxy S22 Series is the best phone for night photography, and you might win a Galaxy Tab S8 Ultra 5G!
Here's how to join:
STEP 1: Register via Samsung Members App
- Go to the "Capture Your City at Night #withGalaxy" banner on your Samsung Members App and enter the following details:
o Name (First name, Surname)
o Mobile phone number
o Complete Home Address
o E-mail address
o Samsung Members Community Username
STEP 2: Post entries via Samsung Members Community
- Go to the contest tab and click Capture the City at Night with Galaxy S22 Series.
- Post a cityscape photo at night with any Galaxy S22 device and tell us #whyGalaxy S22 Series is the best smartphone for night photography.
Submission of entries and promo schedule are as follows:
Promo period – June 20 to July 10, 2022
Deadline of submission of entries – July 10,2022 at 11:59PM
Raffle draw – July 11, 2022 at 2:00PM
Winner announcement – July 12, 2022
Terms and conditions apply.
Per DTI Fair Trade Permit No. FTEB-145391, Series of 2022
- Promo is exclusive to Galaxy S22 Series smartphone users with age 18 years old and above, currently
residing in the Philippines.
- Multiple entries are allowed as long as each entry has a unique visual and caption.
- Participants are encouraged to like and share however, the number of likes is not the basis in choosing the winner.
- Entries will be checked for compliance to mechanics to ensure that all minimum requirements were met. Samsung reserves the right and absolute discretion to shortlist entries/winners as deemed appropriate.
- One (1) winner will be drawn from the pool of entries via e-raffle under the supervision of a DTI representative.