Singapore's Samsung Members Stars!
Hello from Singapore!
Hands on with the new Samsung Galaxy S23 Ultra today(2nd Feb 2023) with this amazing bunch of people. Been using it from a livestreaming perspective and its been great! Amazing cameras with impeccable zooms. Way more stable OIS compared to the S22 Ultra.
Come check out the event space at Gardens By The Bay if you have free time for a hands on experience! Open to the public tomorrow on the 3rd of Feb 2023.

Sorry y'all, reposted because of a weird issue where I posted on the Malaysia Members community instead LOL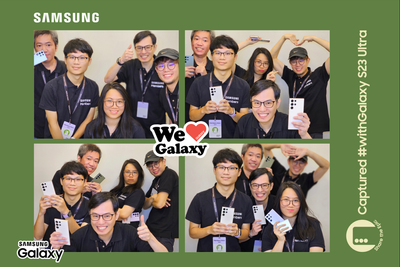 Lol... Jialat la... In your heart u want to be Malaysia Members Stars si bo bro?!
😅
😂
🤣
Yay, glad to know that you had a great time at our Galaxy Unpacked! 😍
All Singapore
🇸🇬
Members Stars
🌟
that attended the 2 days really enjoy ourselves to the max...!!!
Thanks Samsung Singapore
🇸🇬
n pls do it more often this type of events... All of us will sure give our full support !!!