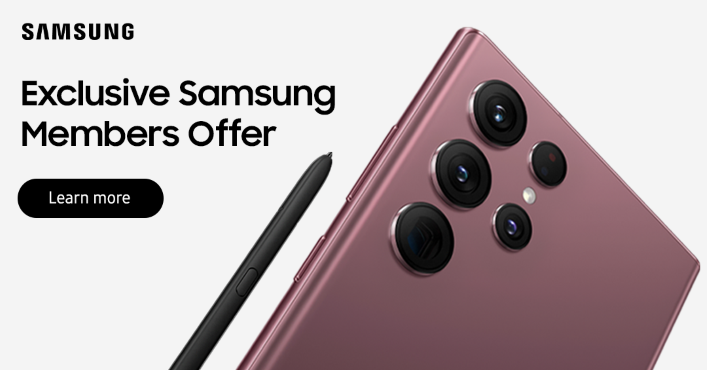 Hi Members,
Here is the Samsung Members upgrade offer for April!
The offer:
Samsung Members exclusive, 10% off voucher code towards any flagship device (S23,S22, Galaxy Z Flip and Fold Series) when purchased from the Samsung Online store (between 1st April 2023 to 30th April 2023).
Instant trade-in: Receive an instant upfront discount from the checkout price of select devices when you trade in an eligible device. T&Cs apply.
Have a device that you've been wanting to upgrade?
You can use this offer towards any of our flagship devices.
Head to the benefits section of the Samsung Members app for your 10% off voucher.
Current Online promotion offers: Offer period: 3.04.2023 – 4.05.2023
Galaxy S23
Purchase a Galaxy S23 and get a bonus freebie of Buds 2 Pro + Super-Fast Wireless Charger Duo
Galaxy S23+
Purchase a Galaxy S23 and get a bonus freebie of Buds 2 Pro + Watch 5 Bluetooth (40mm)
Galaxy S23 Ultra
Purchase a S23 Ultra and get a bonus freebie of Buds 2 Pro + Watch 5 Bluetooth (40mm)
Galaxy Z Fold4
Purchase a Galaxy Z Fold4 and get a bonus freebie of Buds 2 Pro + Watch 5 Bluetooth (40mm)
Galaxy Z Flip4
Purchase a Galaxy Z Flip 4 and receive a bonus freebie of Buds 2 Pro + Super-Fast Wireless Charger Duo
Terms & Conditions Apply:
To receive this exclusive offer, Customers must be logged into their Samsung Members app, to get their exclusive 10% voucher code from the Benefits section.
Voucher conditions: 10% off each (select) product.
Voucher code is eligible with any current online promotion. Voucher is valid until 30th April 2023.
Instant trade-in is only available when purchasing the following: S22 range, Foldable range (Flip4 and Fold4 are excluded), A73. All other models require original handset to be sent in first to receive trade-in credit.
Further information on Trade-in: https://www.samsung.com/nz/galaxytradein/
Full trade-in T&Cs: https://www.xchangemobile.com/NZ/Samsung/Account/Terms_Conditions/