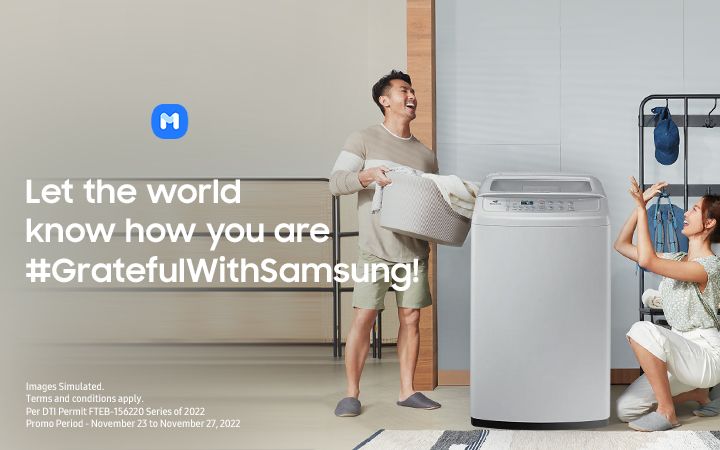 Congratulations to the winners of the #GratefulWithSamsung raffle!
Makyanz
Sixthsenseboy
klenlue
romzteody
Kiszel
AquinoG
Dedette
BryanLi
VesperPH
theTocinoMan

Didn't get in this time?
Don't worry - there's more prizes for our Samsung Members coming!
------------
What are we thankful for? Our lovely Samsung Members, of course!
To show our appreciation, we're giving away amazing Samsung Digital Appliances! All you need to do is join the #GratefulWithSamsung raffle!
Tell us "What Samsung product or customer service experience are you thankful for this year?" and get a chance to win one of the following:
(1) Samsung Smart Oven MC32K7055KT/TC
(1) Samsung Washing Machine WA70H4000SG/TC
(1) Samsung Sound Tower MX-T40
(2) Samsung Air Purifier AX32BG3100GBTC
(10) Samsung UV Sterilizer w/ Wireless Charger GP-TOU020SABWW
Easy right? Hope to see your entries soon, Members!
Mechanics
1. Promo is open for all participants with age 18 years old and above, currently residing in the Philippines.

2. Registration to Samsung Members is required to join the promo.
For new users, download the Samsung Members app and register for a new account.
Enter the following details:
i. Name (First name, Surname)
ii. Mobile phone number
iii. Complete home address
iv. E-mail address
v. Samsung Members Community username
3. Post entries via Samsung Members app
a. Go to the benefits tab or click this link.
b. Answer this question in 500 in words or less: "What Samsung product or customer service experience are you thankful for this year?"
4. Members may only submit a single entry.

5. Upon successful submission of their entry, Members will instantly get a discount Voucher. With the voucher code, Member is entitled to:
a. One-time discount voucher of Samsung digital appliance (i.e. items under TV & AV, and Home Appliances categories) purchased via the official Samsung Online Store at www.samsung.com exclusive for main products only (not applicable for accessories)
b. To redeem the voucher, Member to use the code via Samsung Online Store upon checkout to redeem the product discount.
c. The use of the voucher is governed by Samsung Online Store's Terms and Conditions found at https://www.samsung.com/ph/info/online-shop-tnc/.
d. The voucher is downloadable via Samsung Members only. A Samsung account is required to register to Samsung Members.
e. The voucher is not convertible to cash.
f. The voucher can only be availed once. Once used at checkout, the voucher is considered as fully redeemed.
g. The voucher can be availed on top of other ongoing promos as applicable, including trade-in and trade-up offers.
h. Redemption period is up to sixty (60) days after receipt of voucher code.
6. Entries will be checked for compliance to mechanics to ensure that all minimum requirements were met. Samsung reserves the right and absolute discretion to shortlist entries/winners as deemed appropriate.
7. Fifteen (15) winners will be drawn from the pool of entries via e-raffle under the supervision of a DTI representative.

8. Submission of entries and promo schedule are as follows:
Contest duration – November 23 to November 27, 2022
Deadline of submission of entries – November 27,2022 at 11:59PM
Raffle draw – November 29, 2022 at 2:00PM
Winner announcement – December 1,2022
9. Prizes are as follows:
(1) One winner of Smart oven- MC32K7055KT/TC
(1) One winner of Washing Machine - WA70H4000SG/TC
(1) One winner of Sound Tower - MX-T40
(2) Two winner of Air Purifier - AX32BG3100GBTC
(10) Ten winners of Samsung UV Sterilizer with Wireless Charging GP-TOU020SABWW
10. Once the winners has been chosen, it is understood that this authorizes Samsung to repost winner 's content on Samsung-owned online materials announcing the winners and their entries (i.e. winner's photo and caption). The participant's uploading of submissions onto Samsung website is an automatic agreement to indemnify and hold Samsung and their agencies free and harmless from and against all liabilities, damages, losses, costs, and charges which may be imposed upon or suffered by Samsung or their agencies.

11. Prizes are tax-free.

12. Prizes are non-transferrable and not convertible to cash.

13. Winners will be announced on the indicated date in the mechanics, via Samsung Members Community page. Winners will be notified through registered mail, electronic mail, or through the Samsung Members Community Page.

14. Prizes will be credited to the provided and registered https://www.samsung.com/ph/ account of the winners and sent to their delivery address.

15. The winners must provide the following when claiming his/her prize: Two valid IDs (SSS or GSIS ID, driver's license, Postal ID, Voter's ID, Passport, school ID*) with a complete real name, photograph and signature.

16. In the event that the winners cannot claim his/her prize, an authorized representative may claim on his/her behalf, provided that the representative provides the following: Two (2) valid IDs of the winners (SSS ID or GSIS, driver's license, Postal ID, Voter's ID, Passport, school ID*) with a complete real name, photograph and signature.

17. Prizes unclaimed within 60 days from receipt of registered mail are forfeited in favor of Samsung Corporation with prior DTI approval.

18. Employees, talents and consultants of Samsung Corporation and its advertising agency, including their relatives up to second degree of consanguinity or affinity are not qualified to join the contest. The winner's identity shall be subject to verification.
done. lets go members share your thought gow samaubg wow us.