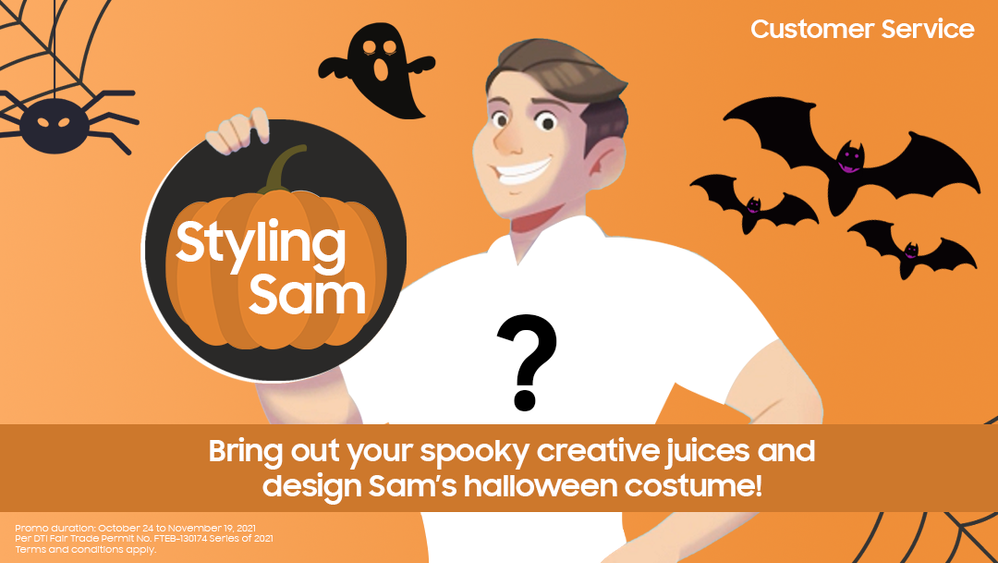 Hey, guys! It's me, Sam, your friendly Customer Service Guy! I need your help to find my special style for Halloween! Save the blank template of my body and design my spookiest, coolest costume yet! Anyone can join! For kids, make sure you get your parents' consent and have them assist you in submitting your entries, okay?
CLICK HERE TO DOWNLOAD BLANK TEMPLATE
Ages 5-12 category – Fairytale and cartoon theme (prince and princesses, ogres, and any costumes from tales as old as time!)
Ages 13-19 category – Space and superheroes theme (aliens, superheroes, and anything out of this world!)
Ages 20 and above category – Supernatural theme (from zombies and werewolves, to tikbalang and manananggals, you name it!)
Each grand winner will take home the following:
Samsung UV sterilizer with wireless charging
Samsung foldable bag
Php 3,000 eVoucher
An electronic raffle will also be held to choose 10 lucky winners from all entries (grand winners excluded). The raffle winners will each receive:
Samsung foldable bag
Mobile screen cleaning kit
Php 1,000 eVoucher
All Samsung Members users who will submit a valid entry will receive a goodie bag from Samsung as a token of appreciation for joining.
So what are YOU waiting for? Read the full mechanics by heading on to the Benefits section of your Samsung Members app and find the Styling Sam banner!
I cannot wait to see your awesome creations!
Aside from using Penup for the first time, it has been a while since I last drew. I had fun designing! Thank you for this event!
Good Day Sam! I hope samsung will consider 2019 entry level phones like A10s and A10 to get Android 12. I'm hoping you will tell it to the top management of Samsung.
🙏
🙏
🙏
🙏