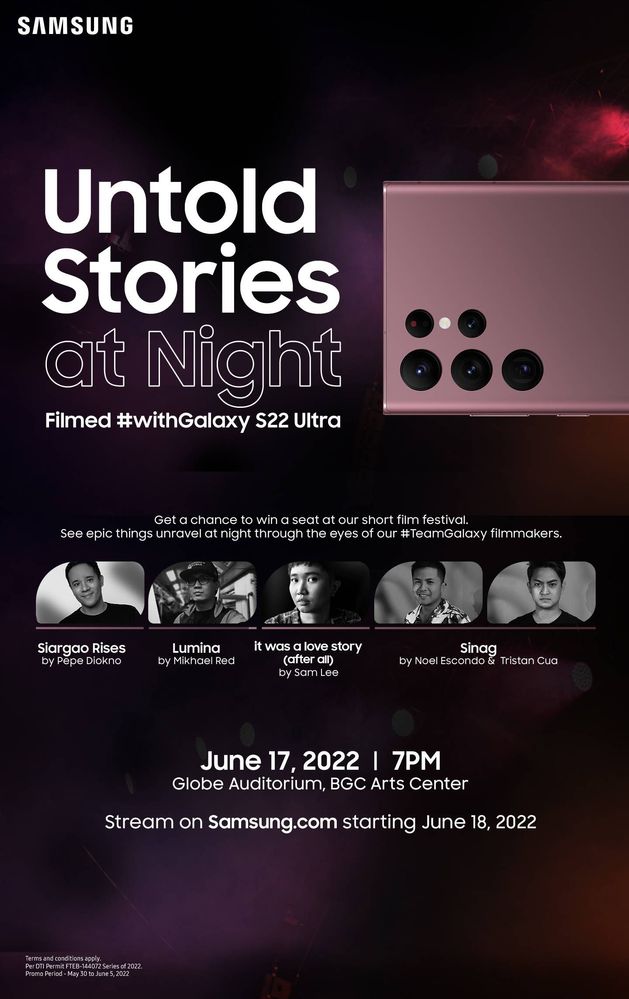 Congratulations to our winners:
willlaurent
Bern2Hell
zzzen
KennyGG
ryeotc
blquirel23
Vicon
MarkLuceño
AntonioPaolo
We'll be emailing you soon to confirm your slots for the Untold Stories at Night Film Fest!
Didn't make the cut? Stick around and get a chance to win tickets to this exclusive event. Stay tuned for an announcement about this soon!
xxxxxxxxxxxxxxxxxxxxxxxx
Hey Members!
We are giving you the chance to join us in our first ever film fest!
Get a chance to win a seat at the Untold Stories at Night: Filmed #withGalaxy S22 Ultra Film Fest, featuring some of the country's most prominent filmmakers:
Pepe Diokno
Sam Lee
Mikhail Red
Noel Escondo & Tristan Cua
We're opening up thirty (30) slots exclusive to our Members to join this prestigious event.
This will be held at the Globe Auditorium in the BGC Arts Center, Bonifacio Global City, Taguig, on June 17, 2022, at 7pm.
Want to join? Here's how!
STEP 1: Register via Samsung Members App
STEP 2: Go to the Untold Stories at Night banner on your Samsung Members App to register.
Enter the following details:
o Name (First name, Surname)
o Mobile phone number
o Complete Home Address
o E-mail address
o Samsung Members Community Username
STEP 3: Submit an entry by posting a quote from your favorite movie, and give a brief explanation on why this is your favorite.
Submission of entries and promo schedule are as follows:
- Promo runs from May 30 to June 5,2022
- Deadline of submission of entries on June 5, 2022 at 11:59 PM
- (30) winners will be announced on June 7, 2022
Terms and conditions apply.
- Promo is open for all participants with age 18 years old and above, currently residing in NCR, Philippines
- Multiple entries are allowed as long as each entry has a unique answer.
- Participants are encouraged to like and share however, the number of likes is not the basis in choosing the winner.
- Entries will be checked for compliance to mechanics to ensure that all minimum requirements were met. Samsung reserves the right and absolute discretion to shortlist entries/winners as deemed appropriate.
- Thirty (30) winners will be drawn from the pool of entries via e-raffle under the supervision of a DTI representative.
- Winners are given until June 10, 2022, 11:59 PM to confirm their attendance. In the event that the winner cannot attend the event, their slot will be forfeited with prior DTI approval.