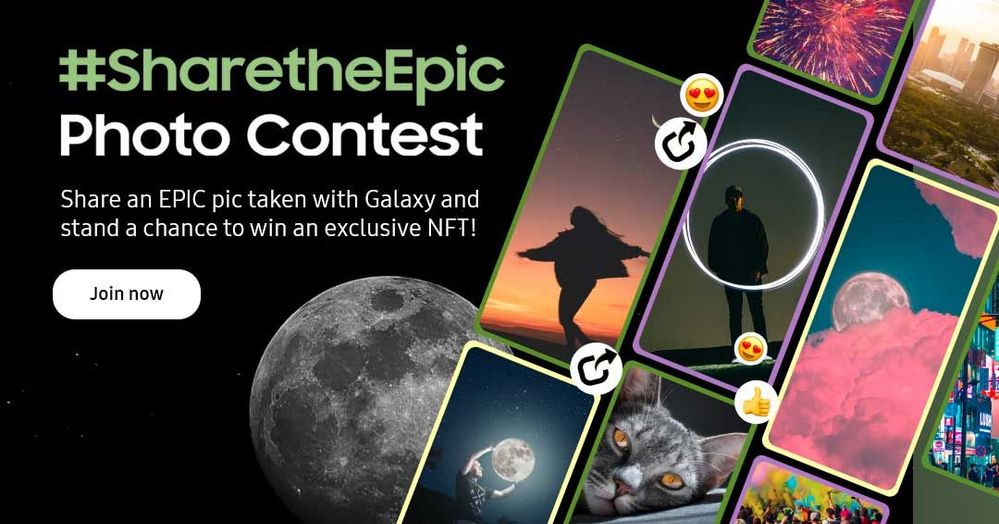 It is time to make everyone go "WOOOW" and ask, "Can you send me that?"
Samsung Members, show us the photographer in you by snapping some EPIC photos with
your Galaxy phones, share it with us and stand a chance to WIN!
29 lucky winners will be chosen to win an exclusive Samsung Members NFT that will give you
FREE entry into 29 Rooms happening in Singapore*!
So what do you have to do to be a part of this exciting #SharetheEpic photo contest?
Step 1: Post your selected photo taken with your Galaxy phone within the Community under
the Galaxy Gallery forum.
Step 2: Write a short description why you feel your photo is so EPIC!
Step 3: Include the following hashtags, # SharethEpic withgalaxy Our_Epic_Story
What can you win?
Samsung Members will be dropping our first NFT collection in the region! A collection of 253
exclusive NFTs (non fungible tokens) that is specially designed and each having a unique ID.
With the NFT, you will be able to gain FREE access for one to the "award winning experiential
sensation", 29 Rooms, happening for the first time in Asia, worth SG$42!
This NFT drop is only applicable for Samsung Members in the Southeast Asia and Oceania
region, so make sure to participate to get the chance to own this NFT collectible and explore
the creative playground that is 29 Rooms!
Submit your entries now!

*29 Rooms will be happening in Singapore from 10th February 2023 to
April 2023. Each winner will be awarded a single entry ticket into the 29 Room event. Ticket will be valid for either
weekday or weekend entry.
Competition ends: 3rd March 9am NZST 2023