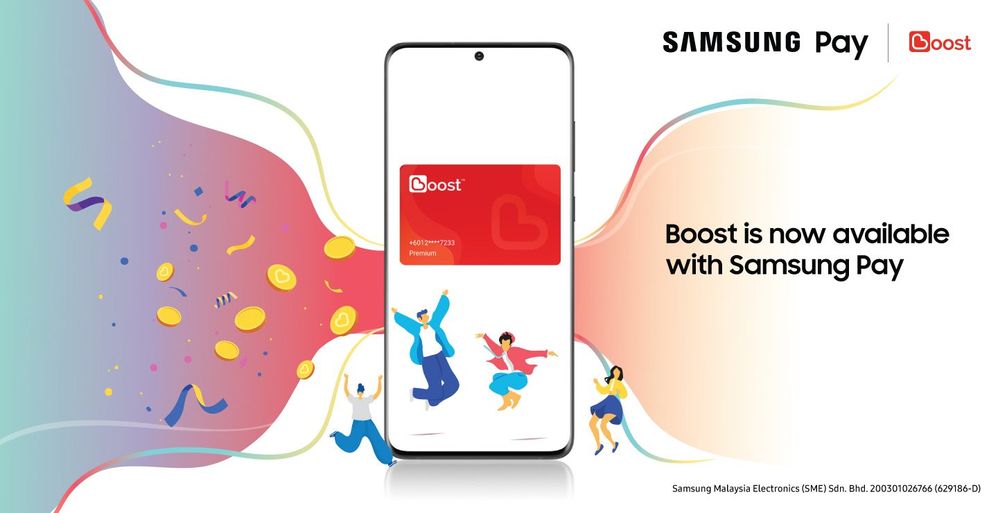 Samsung Pay integrates with Boost e-wallet for seamless and secure cashless payments.
Simple, Secure and Almost Anywhere
Samsung is making it easier to go cashless – and as simple as do-re-mi. All it takes is a single swipe up to launch Samsung Pay app with Boost e-wallet "card", even with locked home screen.
Samsung Pay users simply need to register or link their Boost account to Samsung Pay to start paying with Boost e-wallet.
The steps detailed below:
Step 1: Install Samsung Pay and sign in to your Samsung Account

Step 2: Register your fingerprint or iris and create a 4-digit PIN to secure your payment

Step 3: Add Boost QR card by registering for a new account or link your existing Boost account

Step 4: Add money with credit/debit cards or via online banking. Upgrade to Premium wallet for higher limit.

Step 5: Scan QR to launch your camera to scan QR code for payment

Step 6: Show your QR code and authenticate with fingerprint or Boost PIN to make payment or receive money