It can on my personal laptop but not the office laptop. Anyone had this experience? Something installed by IT "blocking" the wireless connection ?
It can detect the tab just can't connect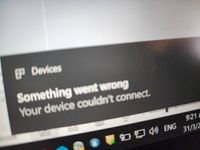 same issued i faced on my work laptop. in the past i could and after a windows patch i couldnt so i believe it's your employer corporate policy
Ya I'm guessing it's due to some issue from company's end. But come on, haha. The Tab can't be a 2nd screen via USB cable ?