What should I do when water does not flow from dispenser properly?
Please Note: The information on this page is for Australian products only. Models, sequences, error codes or settings will vary depending on location and/or where the product had been purchased. To be redirected to your local support page please click here.
If you have problems with the water dispenser in your refrigerator, you can try the following troubleshooting guide.
Please be advised that he below is a general guide of steps you are able to try yourself first before contacting a technician for further support.
Note: The actual design of the display may differ from the model. To check the design specific to your model, please refer to the enclosed user manual. Or, you can also download it from a Manuals & Downloads page.
1.

Make sure Child Lock is disabled.
When the water is not dispensing, check to see if the Child lock is enabled. If the Child lock is on, press and hold the Child lock button for more than 3 seconds to disable.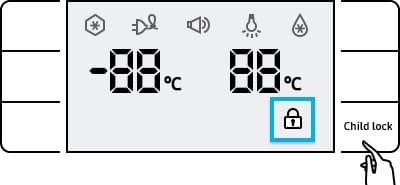 2. Ensure the water dispenser is not locked.
The water dispenser will not dispense if it is locked. Make sure the dispenser is set to "Unlock" and try again.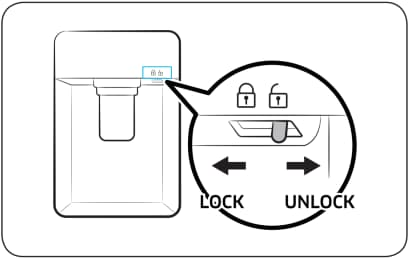 3. Check the temperature.
If the temperature of your fridge is set too low, the water tank may can freeze. Check and adjust the temperature if needed.
4.

Make sure the water filter is installed properly.
If the water filter is not installed properly, the water dispenser may not work. Make sure the water filter is locked in place, and replace it in a timely manner - the filter indicator will turn red when it is time to replace the water filter. Not replacing your water filter can affect water pressure, and potentially clog it.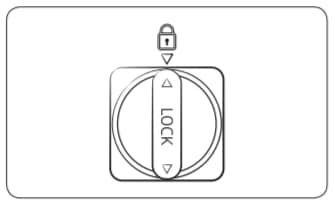 5. Check the water line connection.
If your water line is not connected properly, water will not dispense. Check the make sure the water line is connected, and that water valve is on. The water supply tube need to be free of any obstructions. Also ensure that the water line is not kinked or crushed.
Note:
The water line needs to be installed by a qualified technician
Water line installation is NOT covered in the refrigerator warranty
Samsung takes NO responsibility for water line installation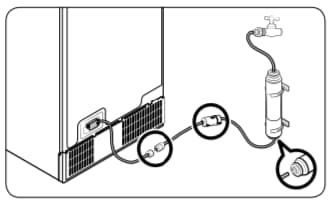 If you require
further assistance
, please consult the user manual from our
Manuals & Downloads
page or contact our
Samsung Care Australia
experts on
1300 362 603
(Toll Free in
Australia
). You can also contact our
Chat Support
team or reach us through
Samsung Members Community
.