It had woke me up, if you need a fix to the alerting sound, check out last post.
Yes there are people with work/ careers with quite heavy loads and need to be alert; so this button can be altered; I did not know.
Description is- a screaming, "Help me", help me- pushing the 14 year old";
his name-Shammah Jolayemi In Toronto- Ps last seen in Black Jeep Wrangler @ 8:26am. He was seen with 2 men with black jackets and bandanas. Ill add a pic of the boy. So he was last seen on, Jane st and Driftwood Avenue.
The jeep had a front bar and big front tires.
I hope they catch; who is involved or get the boy to safety like rt now.
SORRY THIS SITUATION IS NOT RESOLVED.
THE ALARMING SOUND- CHECK LAST POST.
UNKNOWN??? Please bring him home his parents are so scared. If the 2 men are on this; ya never know, please drop him off school, police, his home. Please do not hurt him. Please BRING HIM TO SAFETY. HE MUST BE SO SCARED.
HOPE YOU ALL HAVE A GOOD MORNING,
TAKE CARE HOPE TO HAVE THIS RESOLVED!
Checked google. NOT FOUND YET.
ILL HOPE HE GETS HOME TO HIS PARENTS, I'LL PRAY. NO ONE SHOULD BE TAKEN, HE HAS SAID, HE WENT TO SCHOOL BUT NEVER MADE IT IN.
😡
🤯
😱
😵
😥
☮☮☮
☯️
☯️
☯️
🧸🧸🧸🧸🧸🧸🧸🧸🧸🧸🧸🧸🧸🧸
🦋
🇨🇦
🦋
THIS KID DESERVES LIFE, PLEASE. CARING CITIZEN, BRING HIM TO SAFETY WITH NO INJURIES. PLEASE.
PLEASE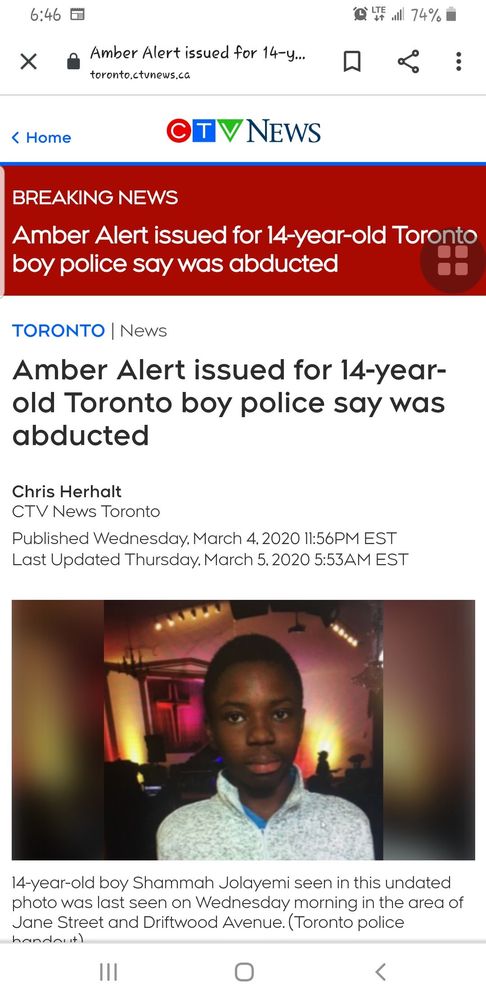 THANK YOU TO THE TORONTO POLICE! ANOTHER ONE WILL GET THERE SOMEDAY! BECAUSE YOU DIDN'T GIVE UP OR HIS FAMILY.
THANK YOU A 14 YEAR OLD- GRADE 9 HEAD OF HIS CLASS STUDENT WILL BE MAKING IT TO SCHOOL SOON AND BEING A SURVIVOR AS WELL AS THE PARENTS AND POLICE THAT RESCUED HIM!
PLEASED, RELIEVED, AND ALL FEEL AT EASE!
ALL HOPE SLEPT WITH SWEET DREAMS AND ALL ARE RESTED AND RESTORED. "ESPECIALLY, " SHAGGYSKUNK1"!
GN WORLD
TY
PS.
CLOCKS SPRING AHEAD AN HOUR...
SUNRISE EARLY THIS MORNING 6:45AM.
OKAY I GET SOME SLEEP AGAIN!
PEACE EVERYONE! AND THANKS AGAIN!