While discovering all the exciting features that come with your Galaxy Watch5, you may be too busy having fun to remember to keep your battery charged. Luckily, charging the Galaxy Watch5 is a breeze. Find out how to keep your new Galaxy Watch 5 in top form and ready to go at all times.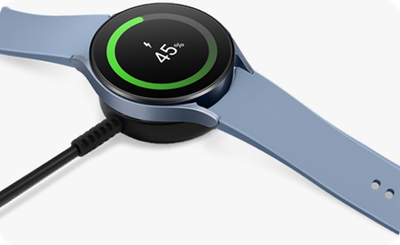 How much faster does the Galaxy Watch5 charge?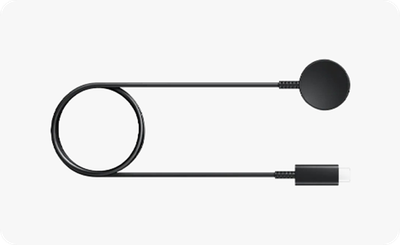 Made to give you the best charging experience, Galaxy Watch5 comes with an updated USB-C cable to support using the dedicated charging pad and the PD charger (5V/2A) together.
The Watch5 can charge up to 45% and the Watch5 Pro can charge up to 35% within about 30mins.
Please note: Samsung does not recommend using third party or non-Samsung certified accessories. Use of uncertified of counterfeit accessories may invalidate your warranty and cause damage. To avoid hindering the charging of your device and causing battery issues, be sure to use authentic Samsung chargers and cables purchased from our Samsung Experience Stores or authorised dealers.
Why does my Galaxy Watch5 still charge normally?
There are some cases where faster charging will not work:
When using a universal wireless charging pad that does not support fast-charging – ex: EP-P5400, P6300, etc.
When using the previous model's Watch charging pad ​– ex: EP-OR500, EP-OR825​.
When using the battery sharing function of a smartphone​.
When using an OR900 PAD with a charger that does not support PD​ – ex: AFC, QC charger, portable battery pack, PD non-supported USB port, etc.​
Charge time varies with region, settings, and environmental factors; actual results will vary.