Since I have galaxy fit, I think I want to switch to galaxy watch but can I trade in my galaxy fit for a new galaxy watch? Or the trade in must be a galaxy watch?
Since I'am a newbie in this community, I hope to hear from others

✌🏻
2 Solutions
Good day , Afrine97 . Welcome to the community
❤️
I am renwei89 . So far , I saw only Galaxy Watch in the list of trade in . Btw u can check yourself also. Add the Galaxy Watch u wanted to buy and then press the trade in button when the item is in your cart , key in your zip code to see available for the trade in or not , then a list of devices will come out if available.
if you feel my solution is helpful for you, pls click 3 dots on right hand side of my comment >>> "Accept Solution" . Thank you
😃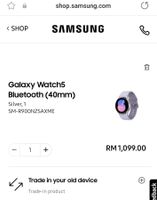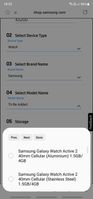 Hi, welcome to the community. Galaxy Fit is not eligible for trade-in on the Samsung Online Store, but it is eligible on Samsung Experience Store.
You may contact the nearest SES at your place for further advice.
If you feel satisfied, you may "Accept Solution" me too
🙈