Nothing beats a good audio experience that keeps you immersed and lets you do more than just listen - you get to truly feel the story happening in front of you.
With Active Noise Cancelling (ANC) that blocks out 98% external background noise and 360 Audio, the Galaxy Buds are a must-have to immerse ourselves into a whole new world by just plugging in and clicking play.
It also features 6 different equaliser settings —- Normal, Bass boost, Soft, Dynamic, Clear, or Treble boost — which gives you an array of sound options for a personalised listening experience.
Start your 3D listening experience by pairing your Galaxy Buds2 through the Galaxy Wearable app!
PAIRING YOUR GALAXY BUDS
In the Galaxy Wearable app, select Start. Place your earbuds in the charging case, close the lid for 5-6 seconds, then reopen the case.

When your Galaxy Buds is displayed on the screen, click it to begin the pairing setup
When a pop-up message appears, click OK to confirm the pairing
If you want to disconnect the earbuds from your phone or tablet manually, simply open the Galaxy Wearable app, click Menu (the three horizontal lines) and then select Disconnect.
EXPERIENCE THE WORLD OF SOUND, YOUR WAY
Customise what you hear through your Galaxy Buds with the amazing Equalizer feature available on the Galaxy Wearable app. Here's how to
Open the Galaxy Wearable app and then tap Earbuds settings
Select from Normal, Bass boost, Soft, Dynamic, Clear, or Treble boost. Drag the slider to change the settings, or simply tap another option to find the best sound experience that fits you.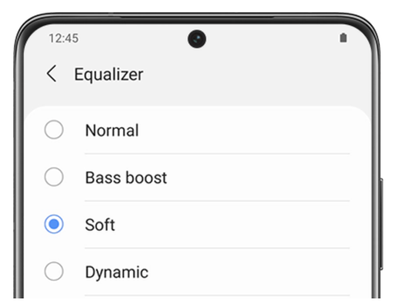 You will also be able to control advanced options for Ambient sound when you're on a call or listening to music. Additional sound options are available when you connect to your Samsung smart watch as well, like managing the sound output and vibration.
SEAMLESSLY SWITCH BETWEEN DEVICES
Have a Galaxy Buds Pro? You're in for a treat with the Automatic switching function that comes with your buds that help you switch seamlessly and automatically between devices when needed!
For example, if you are enjoying some music on your Galaxy tablet and a call suddenly comes in, your Galaxy Buds Pro will use the Automatic switching feature to pair with your phone immediately so you can take the call.
Elevate your listening experience today!
Note:
The Galaxy Buds, Galaxy Buds2, and Galaxy Buds Pro are not compatible with the iOS Buds app.
Galaxy devices running One UI 3.1 or above must be signed in to the same Samsung account to use Auto Switch feature
This feature is not available on iOS devices