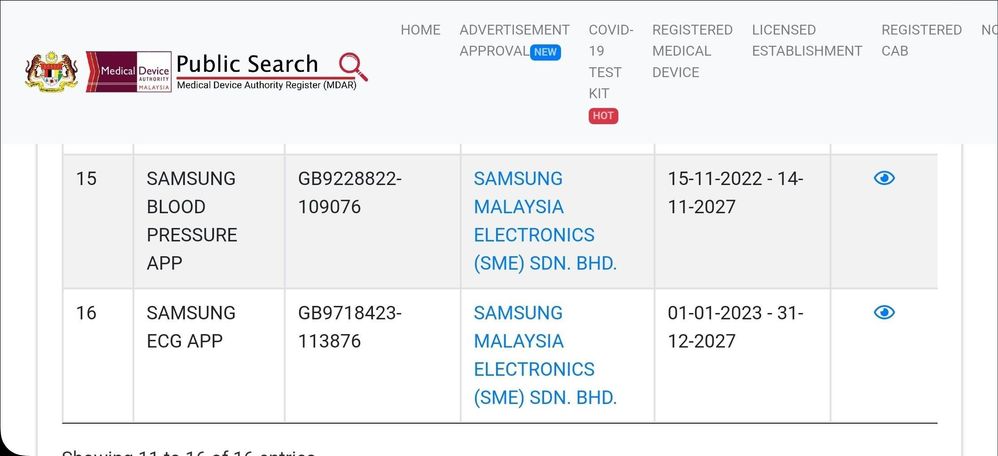 Last November we've seen BP measurement app / feature was approved by Medical Device Authority Registrar (MDAR) that theoretically pave way to BP measurement by Samsung Wearable device in Malaysia.
And this month, I can see that ECG has got the same approval as well. Fingers crossed, hope this will allow both ECG and BP features to be officially offered here in Malaysia. It's just that I have no idea when the update will land in Malaysia. Hopefully next firmware update will bring us the good news.
I've long complaint about the lack of these 2 features here in our market after the other square watch made it available here in Malaysia. Hopefully, we - the Samsung wearable device users get the features we paid for finally!
It's just that, when and which specific device will get these features? Since I'm a Watch4 user, and I believe there are a lot more older device users here, don't leave us out please!
Thank you. Wohoooo!
Hi! I can confirm to you that it's coming out soon. When we hear more we'll let you know!
I can now confirmed that ECG feature has been rolled out to my GW4 classic. I received an update notification (R880XXU1GWB1/R880OXM1GWB1) about 30 minutes ago. after the watch updated, I opened the Samsung Health Monitor app and it successfully paired with my watch, and I can now measure BP and ECG from the watch.
I'm glad that the ECG & BP features update came pretty quick for GW4 after GW5 got them in the previous month.
😁
happy updating!