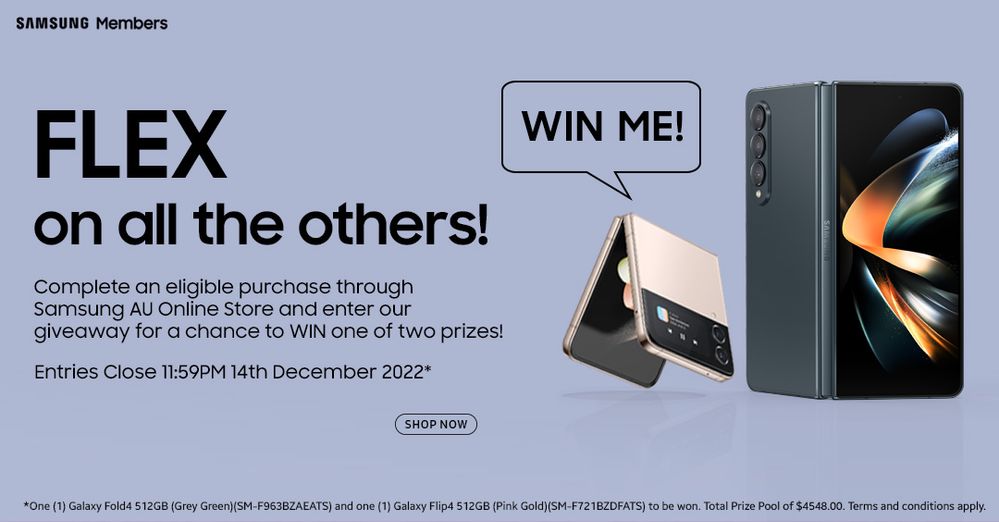 Flex on all the others
Complete an eligible purchase through the Samsung Au Online Store and enter for a chance to WIN one of two prizes
Offer Available Online between 14th November2022 to 14th December 2022
Click here to visit the Samsung Australia Online Store today
We're back! This month is an extra special contest as we give our users a chance to enter a lucky draw and win one of the two prizes listed above.
Remember to complete your purchase through the Samsung AU Online Store before December 14th, 2022 and complete the Jotform provided in the Benefits section of the Samsung Members app with your order number and contact details for a chance to WIN!
Entries will be open from 9:00am November 14th to 11:59pm December 14th, 2022 for a chance to win one of the two prizes. Winners will be contacted by 5pm on December 15th, 2022.
HOW TO ENTER
Log into your Samsung Account on the Samsung Community platform.

Complete any purchase through Samsung AU Online Store (https://samsung.com.au/) between November 1st to December 14th, 2022.

Click on the "Flex on all the others" banner within the Samsung Members App in the "Benefits" section of the application which is located in the main navigation bar.

Select "Enter Now" on the offer page which will provide a Jotform

Entrant must then submit completed Jotform between November 14th – December 14th, 2022.

Multiple Entries Allowed, provided they each feature different order numbers; (Not of the same upload)
If you are viewing this post in your Samsung Members App, please click here to access your benefits section; then click on the "Flex on all the others" banner to register to win!
Can't access the Samsung Members App but don't want to miss out? No Problem!
Click on the jot form here to enter to WIN!
Don't have a Samsung Account? Sign up here
By participating you agree to the Terms and Conditions of this competition
*One (1) Galaxy Fold4 512GB (Grey Green)(SM-F963BZAEATS) and one (1) Galaxy Flip4 512GB (Pink Gold)(SM-F721BZDFATS) to be won. Total Prize Pool of $4548.00. Terms and conditions apply.