Samsung is increasing its efforts to win over iPhone customers. The smartphone maker has launched a new website called "iTest," and it allows iPhone users to "get a little taste of Samsung" through a web application that simulates the Android experience.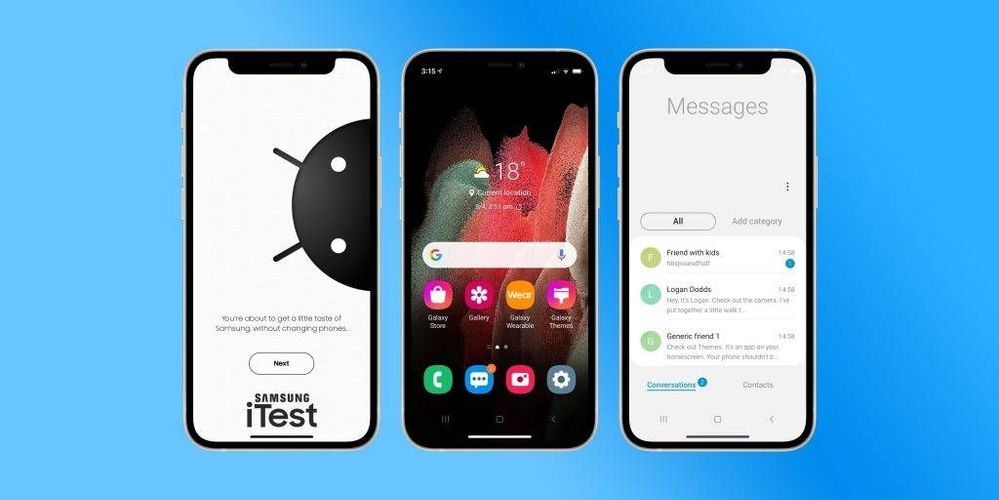 When you visit Samsung's iTest website, you'll be prompted to add the web application to your iPhone's home screen. Once you do this, you can launch it just like any other app and get some hands-on time with the Android interface.
Samsung explains:
You're about to get a little taste of Samsung, without changing phones. We can't replicate every function, but you should quickly see that there's nothing daunting about switching to the other side.
The experience is actually pretty impressive and does a good job of replicating the Android and Samsung Galaxy experience through a web app running on an iPhone. You can do quite a bit, including browsing the Galaxy Store, changing themes, exploring the Samsung Camera app, and more. The banner image in the Galaxy Store naturally promotes Fortnite, which Apple removed from the App Store.
When you're in the Samsung iTest app on your iPhone, you'll even receive a variety of simulated text notifications and phone calls highlighting different things to try out and different ways of communicating with friends. And of course, Samsung is also using this as an opportunity to promote its other Galaxy products, such as Galaxy Buds Pro, Galaxy Watch3, and Galaxy Buds Live.